This October we're celebrating the arts, with a wide range of cultural festivals and events taking place all over the world, from film to theatre and from opera to jazz. See a selection of our favourite world events below then let us know what you'll be up to this October.
Gran Teatre de Liceu Opera Season, Barcelona (4th September - 18th February)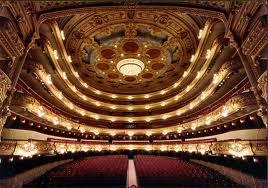 The beautiful Gran Teatre de Liceu is a must-see for any visitor to Barcelona, and never more so than in the autumn when the eagerly awaited new opera season opens. Running for several months, the 2010-11 programme includes productions such as Bizet's Carmen and Cosi FUN tutte, an adaptation of Mozart's famous work.
Book a bed and breakfast in Barcelona
BFI London Film Festival (13th - 28th October)
Developed in 1956 with the aim of giving the general public in Britain the chance to see films they might not ordinarily have access to, the London Film Festival is a celebration of independent and award-winning cinema. Highlights this year include Black Swan, Pandora's Box and Chongqing Blues, but you better book soon - screenings have already started selling out.
Book a London bed and breakfast
48th Ulster Bank Belfast Festival at Queen's (15th - 30th October)
Started in the 1960s by a young Queens graduate at the university campus, the Belfast Festival has grown up to become the UK's second largest arts festival, and has hosted celebrated acts including Jimi Hendrix, Laurence Olivier, the Moscow State Ballet and Billy Connolly. The line up regularly includes a huge variety of theatre, dance, opera, film and music, with something to entertain all members of the family. This autumn sees Michael Palin, the Ulster Orchestra and Alan Bennett all coming to Belfast.
Book a Belfast B&B
Guinness Cork Jazz Festival (22nd - 25th October)
Meanwhile, residents of Cork will be moving to a syncopated beat as the 32nd Guinness Cork Jazz Festival takes over the city. Acts including Andreas Varady, Steve Winwood and the Brand New Heavies will be appearing in venues all over Cork, where jazz legends such as Ella Fitzgerald, Dizzy Gillespie and Oscar Peterson once performed.
Book a Cork B&B
Other festivals taking place in Ireland this October include the Ulster Bank Dublin Theatre Festival and the Wexford Opera Festival.
Do you own a B&B or guesthouse in one of the destinations featured? Visit our sign up page to list your property with BedandBreakfastworld.com.
By: Eleanor Brown
Find BedandBreakfastworld.com on Facebook or follow us on Twitter, or catch up with our blog for top B&Bs and industry news.