The end of summer is in sight, and autumn is looming on the horizon, but there's no need to let that slow you down. There are a few days of sunshine left yet, and some of the year's biggest world events take place during the month of August.
Edinburgh Festival, Scotland throughout August
Despite its status as one of the world's top arts festivals, there is no such thing as the Edinburgh Festival. In fact, it is a number of individual festivals, all taking place in the month of August in locations all around Edinburgh city centre.
The original festival, the Edinburgh International Festival, was first held in 1947 to "provide a platform for the flowering of the human spirit" in post-war Britain. At the same time, several independent theatre groups came together to create the Edinburgh Festival Fringe alongside the main festival. The Fringe has since become the largest arts festival in the world.
A huge range of theatre, comedy, art, dance and music performances can be enjoyed each year, with some huge names taking to the stage in this prestigious event. The venues are as diverse as the acts, ranging from intimate studios to large theatres; even swimming pools and canal boats have been used in festivals gone by!
Edinburgh International Festival: 12th August - 4th September Edinburgh Festival Fringe: 5th - 29th August Edinburgh Military Tattoo: 5th - 27th August Edinburgh Art Festival: 4th August - 4th September
Book Edinburgh festival accommodation
Northern Ireland Amateur Open Championship, Portrush 3rd - 5th August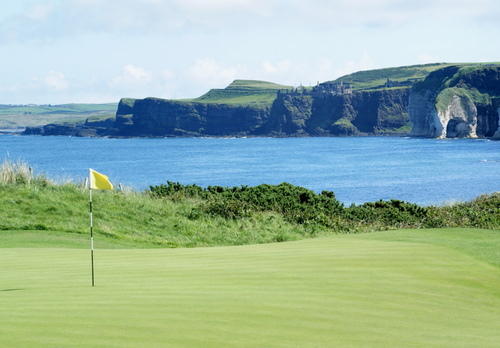 This year, the Northern Ireland Amateur Open Championship will be hosted at the Royal Portrush Golf Club. Around 300 competitors are expected to take part, all with a handicap of 5 or more. Set amid dramatic scenery on Northern Ireland's north coast, Royal Portrush is one of the most challenging golf courses in the world.
Read more about golfing in Ireland
Rose of Tralee International Festival, Tralee, Ireland 19th - 23rd August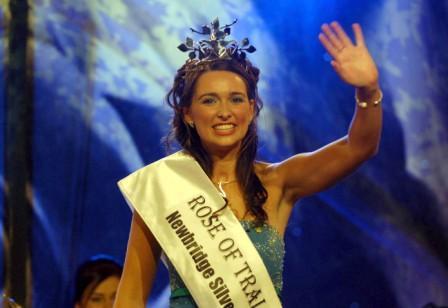 Held every year in the town of Tralee in the west of Ireland, the Rose of Tralee is an international carnival celebrating the aspirations, ambitions, intellect and social responsibility of young Irish women.
Inspired by William Mulchinok's 19th-century song of the same name, the competition has taken place each year since 1959. While participants originally had to be from Tralee itself, the criteria were later extended to include anyone of Irish birth or ancestry, and young women now come from all over the world to take part.
As well as the pageant, the programme of events includes a ball, a fashion show, a circus, a funfair and a procession of colourful floats, and is an important event on the Irish social calendar.
The Notting Hill Carnival, London, England 28th - 29th August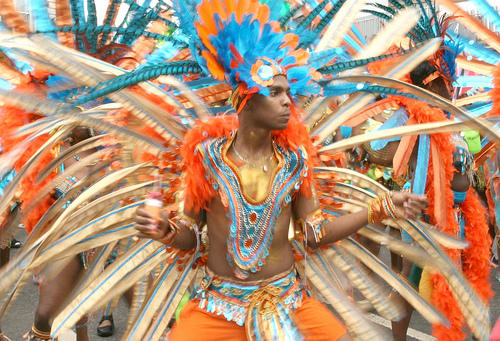 Every August Bank Holiday, an explosion of colour hits West London as the city dances to a tropical beat. Initiated in 1966 by London's Caribbean population, the Notting Hill Carnival has always been seen as a celebration of cultural unity in the capital.
With approximately one million spectators attending each year, it is the second largest street festival in the world. The procession of vibrant floats and dancers in extravagant costumes extends over twenty miles, lined with food stalls from all over the world.
Book Notting Hill Carnival accommodation
La Tomatina, Valencia, Spain 31st August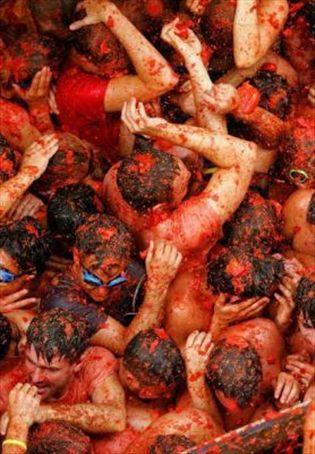 Once a year, for just one hour, the sleepy village of Buñol on the outskirts of Valencia gives a new meaning to the expression 'painting the town red'. Thousands of visitors from all corners of the globe crowd into the narrow streets for La Tomatina, as over one hundred tones of overripe tomatoes are driven in on large trucks. At the sound of a flare gun, the world's best-loved food fight begins as participants pelt each other with fruit (or are they vegetables?), and after a second flare signals the end of the fight, the whole town is washed down by fire engines.
The origins of La Tomatina are unknown, although locals will offer a number of different tales. It's a once-in-a-lifetime experience (once is enough!), but we advise you to take a pair of goggles, wear something old and be prepared to smell of tomatoes for a good few days!
Book accommodation for La Tomatina
Read our guide to Summer Festivals in Spain
Find BedandBreakfastworld.com on Facebook or follow us on Twitter, or catch up with our blog for top B&Bs and industry news.