Autumn's here, but before the days start getting shorter and the weather gets colder, there's still plenty of time to fit in some festival fun. Whatever you're in the mood for, from shoveling down shellfish at the Galway Oyster Festival to soaking up the culture at the Dublin Theatre Festival, our list of September events will have something to keep you entertained.
Blackpool Illuminations (2nd September - 6th September)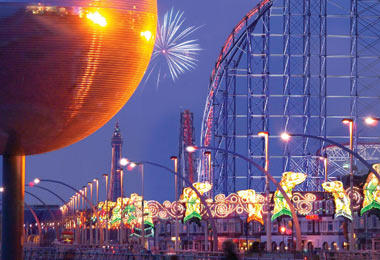 Far from being a simple seaside attraction, the
Blackpool Illuminations
are a spectacular event which has taken place each year since 1879, even before Thomas Edison patented the light bulb! On the 3rd September, over 1,000,000 bulbs will be switched on, including more than 100 miles of lights strung between the promenade and the carriageway and 40 giant illuminated tableaux. This dazzling display of neon, lasers and fibre optics is served up with Blackpool's usual helping of comedy, music and entertainment.
Blackpool also plays host to the World Fireworks Championships (9th - 30th September, Fridays), which will have visitors 'oohing' and 'aahing' over the finest pyrotechnic displays in the world.
Book a cheap Blackpool B&B
Dublin Festival Season
September is festival time in Dublin, and the city comes alive with music, theatre, dance and more.
Dublin Fringe Festival (10th-25th September) Cutting-edge creatives from Ireland and beyond present a no-holds-barred programme of drama, art, dance and music, taking place anywhere from theatres and studios to parks and even street corners.
Dublin Theatre Festival (29th September - 16th October)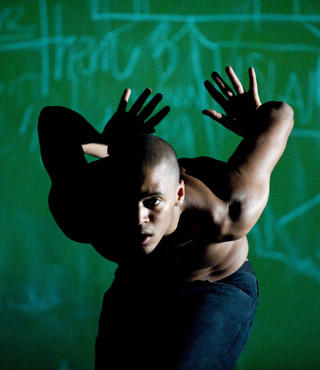 Taking place since 1957, the Dublin Theatre Festival is the oldest festival of its kind in Europe, as well as being Ireland's premier cultural event. Hosting productions by major international artists and up-and-coming, home-grown talent, the extensive line-up of drama, comedy and music is sure to provide entertainment for everyone.
Dublin Culture Night (23rd September) Every year, scores of museums, galleries, studios and cinemas all over the city open their doors free of charge and late into the night for Dublin Culture Night, providing a pick and mix of cultural delights.
Also taking place in Dublin in September are the GAA All Ireland Finals, the highlight of Ireland's traditional sports calendar. Both the hurling and the senior Gaelic football championships take place at the hallowed grounds of Croke Park in Dublin city centre. The All-Ireland Senior Ladies' Football Championship is held later in the month. Watching a hurling or Gaelic football match is a must for any visitor who wants to see something uniquely Irish.
Book a Dublin bed and breakfast
Galway Oyster Festival (23rd - 25th September)
On the other side of the country, on Ireland's west coast, the famous
Galway Oyster Festival
comes into season. From humble beginnings in 1954, the unusual event has grown to be one of the most prestigious dates on the Irish social calendar. Aside from the 'shucking' and eating of oysters there are numerous other events and activities, including the Oyster Festival Parade, the Oyster Festival Gala Ball and the Oyster Pearl beauty pageant.
Book a Galway B&B
Oktoberfest, Munich (17th September - 3rd October)
Needing little introduction,
Oktoberfest
is the most famous beer festival in the world. Beginning in Munich on the third Friday in September, more than 5 million locals and tourists turn up each year to swing their steins and soak up all that beer with bratwurst and pretzels. A large funfair is also set up, while popular musicians play to crowds in colourful tents.
Book a Munich B&B
Festes de la Mercé, Barcelona (22nd - 25th September)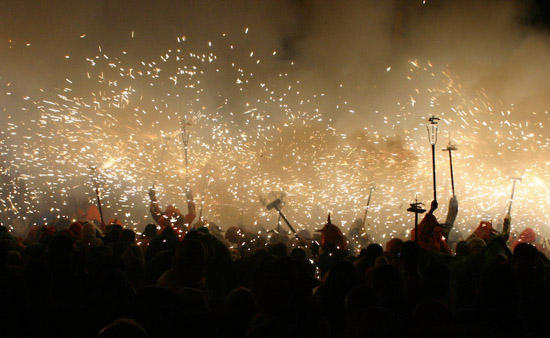 Barcelona's main traditional event is also its largest street party. Lasting for 5 days, the programme includes the Correfoc, a procession of devils and dragons who set off fireworks and spray sparks into the crowds, the Castells, which sees teams of men competing to create the tallest human pyramid, and the parade of Giants, when elaborate effigies of kings, queens and nobles are marched through the city streets.
Read our guide to Summer Festivals in Spain.
Book a Barcelona hostal or B&B
Ibiza Closing Parties (throughout September)
A little way off the coast from Barcelona, the clubs on the world's best-loved party island are getting ready to close their doors for another year. But that doesn't mean that Ibiza in September offers anything less of a good time; these guys know how to go out with a bang, with some of the best parties and biggest names entertaining the crowds at the end of the season.
Book a B&B or apartment in Ibiza
Which are your favourite September festivals and events? Visit us on Twitter or Facebook and let us know.
Do you have a B&B or guesthouse in one of the destinations featured? Visit our sign up page to list your property with BedandBreakfastworld.com.