If you've already battled the crowds at the Colosseum, dodged the gondolas in Venice and had your photo taken holding up the Leaning Tower of Pisa, an agritourism holiday in Italy might be for you.
Imagine strolling through the olive groves and sampling the oil with a slice of freshly baked bread, or spending the afternoon picking grapes then being rewarded with a tasting session of the vineyard's own labels. Live the dream, if only for a few days, at an Italy agriturismo…
Read more about agritourism here
Agriturismo Baglio Fontana, Trapani, Sicily
Located at the heart of Sicily among olive groves and ancient woodland is the lovely Agriturismo Baglio Fontana.
Comfortable double, triple and quadruple rooms have been decorated in keeping with the rural setting, still displaying some of the room's original features. Each is equipped with an en-suite bathroom, air conditioning, a mini-bar, a television and complimentary toiletries, and a tasty Italian breakfast is served every morning.
Facilities include a swimming pool with hydro-massage, a tennis court, a football pitch and a gym, as well as a tasting room and a small agricultural museum. Other activities include horse riding, cooking classes and sailing.
Book Italy Agriturismo Baglio Fontana in Trapani, Sicily
Agriturismo Macesina, Lake Garda
Sharing Lake Garda's excellent climate and lively atmosphere, Agriturismo Macesina is still far enough away to avoid the crowds of tourists who flock there during the summer months.
Area is renowned for fine wine and extra virgin olive oil, as well as other local treats including honey, cheese, truffles and cured meats, which take the starring role in the numerous gastronomic events held throughout the year.
Enjoying the peace and quiet of a typical rural village, Agriturismo Macesina is a stunning farmhouse property with a number of buildings built around a cobbled central courtyard. Rooms are rustic but tastefully decorated with en-suite guestrooms. Guests can explore the surrounding countryside, spend the day boating on Italy's largest lake or just lie by the pool and enjoy the sunshine.
Book Italy Agriturismo Macesina in Lake Garda
Agriturismo Masseria Salinola, Ostuni
For fifteen years, Agriturismo Masseria Salinola has been welcoming guests to their graceful country house, nestled among ancient olive trees.
Surrounded by rolling green hills and farmland and less than ten kilometres from the sea, the charming agriturismo offers a warm, family atmosphere and an intimate, restful environment.
The guestrooms are simply but comfortably furnished, and the en-suite bathrooms boast whirlpool baths. Delicious home cooking is freshly prepared using local ingredients and traditional Italian recipes.
Book Italy Agriturismo Masseria Salinola in Ostuni
Agriturismo Gigliotto, Piazza Armerina, Sicily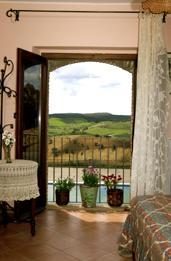 Also in Sicily, not far from the slopes of Mount Etna, Piazza Armerina is a picturesque and historic town of pretty buildings and winding streets.
Close by, hidden away amongst rolling hills and fertile farmland is one of our favourite villas in Sicily. Agriturismo Gigliotto is a beautiful thirteenth-century monastery with fourteen guestrooms set around a typical Sicilian courtyard.
Delicious local dishes are accompanied by a glass of wine from the property's own Nero D'Avola vineyard.
Book Italy Agriturismo Gigliotto in Piazza Armerina, Sicily
Agriturismo Il Corniolo, Perugia
A fifty-hectare estate of sunflower fields, walnut groves and coppice woods is home to Agriturismo Il Corniolo, a lovingly restored farmhouse with seven individual apartments to sleep two to eight people.
Each unit is equipped with satellite television, free internet access, a telephone, a BBQ area and free parking. Handmade tiles, beamed ceilings and old farm tools create a rustic atmosphere.
Located seven kilometres from Perugia, this Umbria agriturismo offers plenty of opportunities to get out and enjoy the scenery; visitors can hike mountain trails, cycle the country lanes or go fishing in the hilltop lake.
For more information about travel in Italy visit italia.it.
Book Italy Agriturismo Il Corniolo in Perugia
Do you have a B&B or guesthouse in Italy? Visit our sign up page to list your property with BedandBreakfastworld.com.
By Eleanor Brown
Find BedandBreakfastworld.com on Facebook or follow us on Twitter, or catch up with our blog for top B&Bs and industry news.