Experience life on the water in a botel on Amsterdam's famous canals.
The centre of Amsterdam is a lively throng of photo-snapping tourists, bike-riding locals and rattling trams. The action centres around the Dam, a graceful square that has existed since the 13th century and is overlooked by the Royal Palace.
Away from the centre, Amsterdam is much calmer; the picturesque streets and sliding canals are lined with elegant old villas and inviting houseboats.
The city's main attractions include Dam Square, the Anne Frank House, the Museumplein and the Vondelpark, but there's plenty of atmosphere to be soaked up just strolling the streets and exploring the different neighbourhoods.
If you fancy trying something a bit different while in Amsterdam, why not book a botel? These floating guesthouses offer cosy cabins, friendly crews and a great location at the heart of the city, either on one of the canals or in the lively harbour.
Amsterdam Botels
Amsterdam Bed and Breakfast DCK
Providing a home away from home, Amsterdam Bed and Breakfast DCK, is ideal for a romantic getaway or a relaxing break at the heart of the city. The light and airy boat sleeps up to four people, with a bedroom, living room with sofa bed, kitchen, bathroom and terrace, and is part of a neighbourly community of boats. Private and quiet, guests can feel at home on the water while still being close to all of Amsterdam's attractions.
Book Amsterdam Botel Bed and Breakfast DCK
Located on the Prinsengracht canal, a UNESCO World Heritage Site, Houseboat Pantheos offers modern and stylish accommodation in Amsterdam. The bright, tastefully decorated rooms include a bedroom, bathroom, kitchen and living room with windows overlooking the canal. Outside, there is a private terrace overlooking the water, where you can sit after a busy day and watch the ducks swimming past. At the heart of the historic Jordaan area, the Anne Frank House and Westerchurch are just a few minutes' walk away.
Book Amsterdam Botel Houseboat Pantheos
Perfect for groups of friends or family travelling together, Houseboat Alternatief offers you the chance to own your own Amsterdam houseboat, at least for a while! Surprisingly spacious, the boat has the feel of a modern apartment, with a stylishly decorated living room, two bedrooms, a kitchen and a bathroom. The foredeck boasts a picturesque terrace which makes a unique spot to watch the sun rise or set over the oldest part of Amsterdam.
Book Amsterdam Botel Houseboat Alternatief
Offering a completely different take on the Amsterdam botel, the Sailship Soeverein is a beautiful 17th century style sailing ship complete with rigging, figurehead and cannons. The comfortable double and single rooms are all decorated to the highest standards and a tasty breakfast is included in the rates. The ship sleeps up to 30 guests, meaning you can get a crew of friends together and reenact Pirates of the Caribbean in between exploring Amsterdam.
Book Amsterdam Botel Sailship Soeverein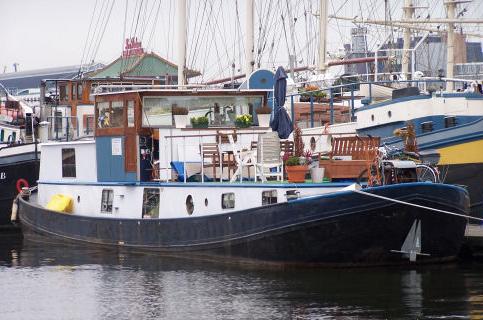 Enjoying an excellent location in Amsterdam's Nautical Quarter, close to Centraal Station, Passenger Ship Maria Alberta has four cosy cabins with comfortable beds and en-suite bathrooms. Get to know your crew mates out on deck or in the lounge, where a complimentary breakfast is served up each morning by your friendly host. Landlubbers need not fear, as the floating guest house stays moored within walking distance of most of Amsterdam's top attractions.
Book Amsterdam Botel Passenger Ship Maria Alberta
See more Amsterdam botels and B&Bs
To find out more about things to see and do in Amsterdam visit IAmsterdam.com, or for information on Holland in general, visit www.holland.com.
Do you have a B&B or botel in Amsterdam? Visit our sign up page to list your property with BedandBreakfastworld.com.
Find out more information about travel in France at FranceGuide.com.
By: Eleanor Brown
Find BedandBreakfastworld.com on Facebook or follow us on Twitter, or catch up with our blog for top B&Bs and industry news.