Getting to see a show or concert is an expensive business these days. Even after paying for your ticket (plus booking fee plus service charge plus postage), you have to add on transport, food and drink, not to mention the obligatory souvenir t-shirt. Staying in a B&B close to the event is an excellent way to avoid a long journey home late at night while saving money on a hotel or a long taxi ride. Here at BedandBreakfastworld.com we've come up with a list of our best events B&B accommodation close to top venues around the UK.
Edinburgh B&Bs for the Edinburgh Festival and Hogmanay
Undoubtedly one of the world's largest and most famous cultural events, the Edinburgh Festival takes place every August at the heart of the Scottish capital. The number of performance venues seems to grow every year, but they consistently number in the hundreds and range from bookshops to rooftops to big top tents. Ensure you manage to see a bit of everything by staying right in the city centre.
Lantern Guest House provides an unbeatable combination of warm Scottish hospitality and a central location just five minutes from the main train station. A cosy, homely property with lots of character, Lantern Guest House has a range of comfortable en-suite rooms, and it is also ideally situated for witnessing the traditional Hogmanay festivities.
B&Bs near the O2 Arena, London
London is a top priority on any band's tour schedule, and one of the most popular venues of the past few years has been the O2 Arena, which has played host to chart toppers such as Beyoncé, Britney Spears, Elton John and Metallica. It was also the intended venue for Michael Jackson's final tour.
Less than two miles away from the O2 Arena is FCT Bed, a homely, affordable B&B. Just a five-minute walk from Mile End Underground Station, rooms are simple but comfortable and are equipped with wireless internet access, televisions and mini-fridges.
Book B&Bs near the O2 Arena in London
B&Bs near Wembley Stadium, London
The original Wembley Stadium was a national treasure. The first turf was cut by King George V in 1923, and it was the home of the English football team until its closure in 2000. It was also a major music venue, with a huge number of big name acts such as U2, Madonna, the Rolling Stones and Johnny Cash having graced the stage.
The new Wembley Stadium opened in 2007 as the second-largest stadium in Europe with a capacity of 90,000. Wembley continues to host a consistently high calibre of music, as well as once again being the home of English football.
Providing ideal event accommodation for individuals or groups of friends going to see their favourite band or football team, London Private Rooms has a range of single, double, triple and quad rooms, many with en-suite bathrooms and all with access to fully equipped kitchens. The guesthouse is located just steps away from Willesden Green Underground Station and Wembley Arena is also nearby.
Book B&Bs near Wembley Stadium in London
B&Bs near Earls Court and Wimbledon
Wimbledon is home to the oldest tennis tournament in the world and draws spectators from all over the world, including plenty of celebrities.
Anwar House offers a range of cosy rooms and a convenient location just two minutes away from Earls Court Underground Station, which has direct trains to Wimbledon Park. Earls Court itself and the neighbouring Olympia are also popular venues for a variety of events, such as fairs, conventions and concerts.
Book B&Bs near Earls Court and Wimbledon
We do, of course, have plenty of other B&Bs in and around London, ideal for events such as the Notting Hill Carnival, London Fashion Week and the Chelsea Flower Show.
B&Bs near the NEC, the NIA and the O2 Academy in Birmingham
Britain's second largest city plays host to a huge number of musical and cultural events each year and has a wide range of venues to accommodate them, including the National Exhibition Centre (NEC), the National Indoor Arena (NIA), the O2 Academy and Symphony Hall.
Within easy reach of all of these is the Brighton Arms, a renovated Victorian guesthouse offering comfortable bed and breakfast accommodation near Birmingham city centre. All rooms feature en-suite bathrooms with power showers and the property has its own bar where live sports are screened on plasma televisions.
Book B&Bs near the NEC and the NIA
B&Bs near the Olympia, the Echo Arena and the O2 Academy, Liverpool
As the home of the Beatles, Liverpool holds a special place in the history of British popular culture, and is often a pilgrimage site for musicians and fans alike. Liverpool was named a European City of Culture for 2008, and has numerous venues for concerts, gigs and other events.
Set in the heart of Liverpool's Georgian quarter, Roscoe House is a stunning boutique B&B with fifteen beautifully appointed guestrooms. King-size beds are dressed with Egyptian cotton, modern and period pieces adorn the walls and each room is equipped with an en-suite bathroom, satellite television and complimentary wireless internet access. Best of all, the O2 Academy, the Liverpool Echo Arena and the famous Cavern Club are all within walking distance, and the Liverpool Olympia is not far away.
Book B&Bs near the Olympia and the Echo Arena in Liverpool
B&Bs near Old Trafford, the MEN Arena and the Manchester Apollo.
Manchester is one of the UK's most vibrant cities, and its long-established music scene has produced such acts as The Smiths, Oasis and Joy Division. Our chosen Manchester B&B, New Central Guest House, is just a mile from the Manchester Evening News Arena (MEN), the city's main music venue. The Carling Apollo and the world-famous Old Trafford, home to Manchester United, are also within easy reach.
B&Bs near the Trent FM Nottingham Arena and Rock City
Acorn Bed and Breakfast offers homely accommodation in a traditional Victorian house in the cosmopolitan West Bridgford area of Nottingham. Perfect for concerts and events, it is located just over a mile from the Trent FM Nottingham Arena (in the National Ice Centre) and less than two and a half miles from the trendy Rock City and the Royal Concert Hall.
Book B&Bs near the Trent FM Nottingham Arena and Rock City
B&Bs near Metro Radio Arena, Newcastle City Hall and the O2 Academy
Roselodge House provides comfortable, friendly and affordable accommodation in Newcastle upon Tyne, England's most northerly city. The B&B is housed in a former church and its fifty-six spacious rooms still retain much of the original Gothic architecture. It is also conveniently located for accessing the city's various event venues, with the Metro Radio Arena, Newcastle City Hall and the O2 Academy all within two and a half miles.
Book B&Bs near Metro Radio Arena, Newcastle City Hall and the O2 Academy
B&Bs near the Millennium Stadium and Cardiff International Arena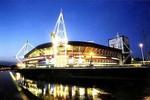 The Welsh have a proud musical tradition which has produced such legends as Tom Jones, Shirley Bassey, Manic Street Preachers and Stereophonics. The city also has two major venues, Cardiff International Arena and the Millennium Stadium, which is the national stadium of Wales.
Just one mile away from both, Hotel One Hundred offers a warm welcome and comfortable accommodation in a family-run guesthouse at the heart of the city. New for autumn 2009, the property has seven guestrooms and facilities including secure parking, wireless internet access, laundry and, of course, a full breakfast.
Book B&Bs near the Millennium Stadium and Cardiff International Arena
Find out more information about things to see and do in the UK at VisitBritain.com.
Do you have a B&B or guesthouse in one of the destinations featured? Visit our sign up page to list your property with BedandBreakfastworld.com.
By: Eleanor Brown
Find BedandBreakfastworld.com on Facebook or follow us on Twitter, or catch up with our blog for top B&Bs and industry news.