Below are a few of our top-rated beachside B&Bs in England to get you inspired. Good old-fashioned seaside holidays are an English institution (think knotted hanky on the head, deckchairs and sunburn on a cloudy day), but in recent years, cheap flights and package deals have had more and more of us heading for sunnier climes. In the last year, however, growing economic concerns have given even those of us who don't care about climate change a reason to holiday at home.
B&Bs in Newquay
Where better to start than ever-popular Cornwall, at the extreme west of the country? This peninsular county consisting of impressive countryside, dramatic cliffs and sandy beaches could have a feature to itself, but we are heading straight to Newquay, England's undisputed surf capital. This small town's resident population of 22,000 regularly swells to 100,000 during the summer months, with an influx of students on post-exam celebrations, stags and hens, and, of course, surfers.
At the heart of the town, Kirribilli Guesthouse has clean, comfortable rooms for up to five people, and is located just five minutes' walk from Towan Beach and fifteen minutes from the famous Fistral Beach, arguably the best surf spot in the British Isles. Embracing this laid-back surfer vibe, Kirribilli gives each guest a key so they can make the most of Newquay's nightlife, be it one of the town's many clubs and bars or simply a starlit beach. The guesthouse also has a light and airy breakfast room where guests can help themselves to tea, cereal and toast and a sunny patio area.
B&Bs in Torquay
Moving west to Devon, we come to Torquay, once known as the English Riviera and home to Agatha Christie and no fewer than nine attractive beaches, including three European Blue Flag beaches. Located in the centre of town is Ashurst Lodge, a friendly, traditional guesthouse with twin, double and family rooms furnished in a cosy, homely style. Facilities include a comfortable lounge and a dining room where a hearty complimentary breakfast is served.
B&Bs in Bournemouth
In 2007, it was somewhat optimistically suggested that new regeneration proposals would convert Croydon into the 'Barcelona of England'. We think that the vibrant and cosmopolitan city of Bournemouth, with its seven miles of golden sand, would be more suited to this title.
Brooklands is a charming hotel situated on the city's West Cliff, an area once home to Robert Louis Stevenson. Housed in a traditional Victorian seaside building, they offer nineteen cosy en-suite rooms, and guests can enjoy complimentary use of the facilities at the Marriott Leisure Club, including swimming pools, a sauna and steam room and a gym. With a prime location just a few minutes' walk from shops, gardens, theatres, restaurants and, of course, Bournemouth's award-winning beaches, it is no wonder Brooklands boasts a guest book full of return customers.
B&Bs in Blackpool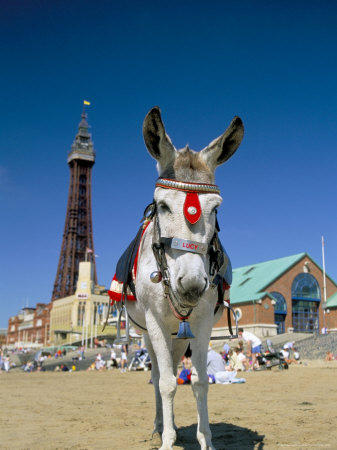 Finally, proving that it is not, in fact, grim up north, we have Blackpool. The ultimate seaside resort welcomes an estimated ten million visitors each year, drawn by the bright lights of the Blackpool Illuminations and the dizzying highs and lows of the Pleasure Beach. A celebration of the kitsch and the camp, it is the favourite destination of hordes of stag dos and hen nights every weekend.
Marston House offers guests a spot of 'genuine Lancashire hospitality', providing good grub, comfy beds and a quiet place to recover from the day's excitement. Enjoying an ideal central location, with views of iconic Blackpool Tower, the guesthouse is just a few minutes from the promenade and the Golden Mile, the perfect place to pick up a stick of rock or a 'Kiss me quick' hat.
Find out more information about things to see and do in the UK at VisitBritain.com.
Do you own a B&B or guesthouse in any of the destinations featured? Visit our sign up page to list your property with BedandBreakfastworld.com.
By: Eleanor Brown
Find BedandBreakfastworld.com on Facebook or follow us on Twitter, or catch up with our blog for top B&Bs and industry news.