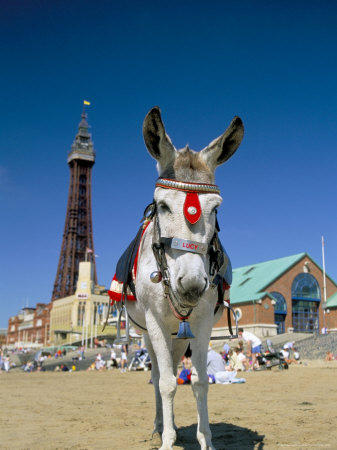 Good, old-fashioned seaside holidays are an English institution (think knotted hanky on the head, deckchairs and sunburn on a cloudy day), and nowhere does it better than Blackpool.
From the dazzling lights of the famous illuminations to the dizzying highs and lows of the Pleasure Beach, Blackpool is bright, brash and unashamedly hedonistic - and it works; with over 10 million visitors a year, Blackpool is the UK's premier seaside resort.
Blackpool was first made fashionable as a destination in the mid-eighteenth century by wealthy holidaymakers who came to take advantage of the curative properties of 'sea-bathing'. Combining the charm and appeal of a traditional seaside holiday with hi-tech attractions and entertainment has allowed Blackpool to remain a favourite with old and young alike into the 21st century.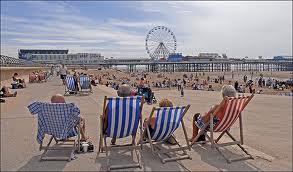 Bed and breakfasts have always been and still are the most popular form of accommodation in Blackpool, and staying in a Blackpool B&B offers visitors the chance to chat with the locals while they tuck in to a homemade full English breakfast.
See Blackpool Bed and Breakfasts
Things to do in Blackpool
• Blackpool Tower Inspired by the Eiffel Tower in Paris, the iconic Blackpool Tower was opened to the public in 1894. Standing at 158m (518ft) tall, the tower is visible for 30 miles and is illuminated at night by 10,000 lights. A large viewing area offers views to the Isle of Man, the Lake District and North Wales, with a glass-bottomed area called 'the Walk of Faith' which vertigo sufferers may wish to avoid. The base of the tower is home to, among other things, a magnificent Victorian ballroom and an indoor circus.
• Blackpool Pleasure Beach Sixteen hectares jam-packed with stomach-churning roller coasters, funfairs, arcades and family entertainment make up the famous Blackpool Pleasure Beach, the UK's most-visited amusement park. Older kids will love rides like the Pepsi Max Big One and Infusion, while all age groups will be charmed by a collection of old-fashioned wooden roller coasters.
• The Sealife Centre Close to Central Pier is the impressive Sealife Centre, a state-of-the-art aquarium whose top attractions include a giant octopus and a tunnel of sharks.
• Blackpool Piers Blackpool is unique in the UK in that it is the only town with 3 piers; the North Pier, the Central Pier and the South Pier. All three offer entertainment venues, amusements and eateries, as well as an authentic taste of the classic seaside holiday.
• Stanley Park Covering more than 100 acres, Stanley Park is an excellent example of Victorian landscaped gardens. Focused around a circular Italianate garden at its centre, the park is home to a boating lake, cricket grounds, an 18-hole golf course, tennis courts and Blackpool Model Village.
Blackpool Events
Blackpool has a full social calendar at any time of year, with top-class entertainment in the form of music, dance, comedy and theatre taking place in venues all over town, including the Grand Theatre, Blackpool Tower itself and the fabulous Winter Gardens. If you're visiting Blackpool in winter, take the family to one of the many theatres to take in a traditional pantomime.
Annual events include: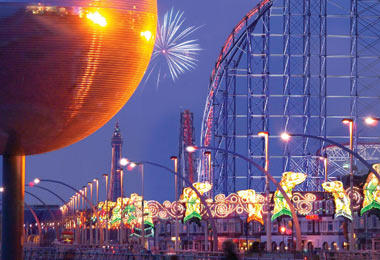 • Blackpool Armed Forces Week (June)
• Miss Blackpool Pageant (August)
• Blackpool Annual Airshow (August)
• World Fireworks Championships in Blackpool (September)
• Waterloo Bowling Championships in Blackpool (September)
• Blackpool Illuminations (September - November)
• The Address

Located close to Blackpool Tower, family-run B&B The Address prides itself on offering comfortable accommodation, a welcoming atmosphere and unbeatable service. Tastefully furnished rooms feature wireless internet access, flat-screen LCD TVs, hairdryers and tea/coffee-making facilities, while a delicious home-cooked breakfast consists of fresh juice, pancakes, porridge and, of course, a full English breakfast. Disabled access rooms are available.

Book Blackpool B&B The Address


• Victoria Guest House

Perfect for couples or families holidaying in Blackpool, three-star property Victoria Guest House enjoys a convenient location close to the Winter Gardens. Guestrooms have a homely feel and are all equipped with private bathrooms and wireless internet access. A complimentary full English breakfast is served each morning and there is a cosy TV lounge for guests' use. Victoria Guest House is within walking distance of Blackpool's main bus and train stations.

Book Blackpool B&B Victoria Guest House
See more Blackpool Bed and Breakfasts
Getting Around
Blackpool's closest airports are Manchester Airport and Leeds-Bradford Airport, both 1-2 hours away. The main train and bus stations are located in the town centre, and you can buy a range of daily and weekly travelcards for use on all the buses and trams. There is plenty of parking for those travelling with a car.
Around Blackpool
• Manchester As the unofficial capital of Northern England, Manchester rivals London with its wealth of fascinating museums, world-class dining, excellent shopping and celebrated music scene. Then of course there's the city's most famous export, Manchester United Football Club, who make their home at Old Trafford.
• Liverpool Forever associated with The Beatles and Beatlemania, today Liverpool is a creative, modern and dynamic city with plenty to offer the 21st-century visitor. Liverpool was named a European City of Culture in 2008 and boasts several UNESCO World Heritage Sites thanks to its important maritime history. Liverpool also has a world-famous football club, of course, who play at Anfield Stadium.

Other cities around Blackpool include Preston, Lancaster, Blackburn and Burnley.

• Yorkshire Dales National Park About an hour and a half from Blackpool, the Yorkshire Dales National Park comprises nearly 700 square miles of rolling hills, open moors, broad valleys and winding drystone walls, a landscape which has remained unchanged for generations and offers a taste of quintessential England.
• Lake District National Park Home to England's highest mountains and deepest lakes, the stunning scenery of the Lake District National Park has inspired centuries of artists and poets, including William Wordsworth. Welcoming around 14 million visitors a year, the park is undoubtedly one of the most popular places in the country for walking and cycling.
• The Peak District National Park Slightly further away but still less than 2 hours from Blackpool, the Peak District National Park is a beautiful region of picturesque villages, atmospheric limestone caves, historic sites and elegant stately homes. In the middle of one of England's most densely populated areas, the park is a surprising haven of peace and solitude.
To find out more about things to see and do in Blackpool go to VisitBlackpool.com, or for information on England in general, go to EnjoyEngland.com.
For travel information about the rest of Britain, go to VisitBritain.com.
Do you own a Blackpool B&B? List your property for free on BedandBreakfastworld.com.
By Eleanor Brown
Find BedandBreakfastworld.com on Facebook or follow us on Twitter, or catch up with our blog for top B&Bs and industry news.