Ironically, the busy lives we all lead nowadays find us in desperate need of a holiday without the time to take actually take one. A city break can be the perfect solution to this Catch-22 situation and, lucky for us, cheap flights have put all of Europe on our doorstep.
BedandBreakfastworld.com presents a selection of the most popular destinations for city breaks in Europe along with a selection of top city bed and breakfasts.
Dublin
Like most capital cities in Europe, Dublin has its fair share of art and culture, and more than its fair share of history, but what really keeps the city ticking is its social life. It's the locals themselves who give Dublin that certain something as they are always willing to share the craic with visitors to their city.
That central Dublin is relatively small is part of its charm; once you've navigated your way from O'Connell Street to Grafton Street, with a stop off in Temple Bar along the way, you'll find you're already thinking of yourself as an honorary Dubliner.
Just minutes from Temple Bar, Trinity College and Grafton Street, The Mercantile is ideally located for discovering everything Dublin has to offer.
A range of 28 bright and spacious rooms have all been decorated to reflect our warm and friendly atmosphere, with comfort and relaxation in mind. All rooms feature free WiFi, television, telephones and hairdryers, and many offer great views over the River Liffey.
Downstairs, the Mercantile Bar & Grill serves up top-quality food at very reasonable prices, making a great place for city centre dining. Burgers, fresh soups and the stew of the day are all made using only the finest Irish produce.
Book city bed and breakfasts in Dublin
Edinburgh
While Edinburgh receives most of its visitors either during August for the world-famous Fringe Festival or in December for the Hogmanay festivities, locals will tell you that the best time to visit their city is in the autumn, when the days are bright and crisp and the darkening evenings lend an air of mystery to the medieval turrets of the Royal Mile.
The city perches almost precariously on a landscape of rocky hills, but once you reach the top the view alone makes it worth the climb. Whether gazing out from the battlements of Edinburgh Castle or scurrying through the underground vaults on a ghost tour, Edinburgh has an atmosphere which can't be found anywhere else.
Awarded four stars by the Scottish Tourist Board and four diamonds by the AA, Ben Craig House is a locals secret. Set in Edinburgh's city centre, attractions such as the Palace of Holyrood and Edinburgh Castle are within easy reach, but this city B&B also offers an atmosphere of peace and quiet.
The tastefully decorated guestrooms are light and airy, all featuring en-suite bathrooms, wireless internet access and plasma televisions. A tasty breakfast can be enjoyed in the sunny garden, which overlooks the large garden, and guests can also make use of a cosy lounge.
Book city bed and breakfasts in Edinburgh
London
London has an energy you can feel, from the moment you step off the train/tube/double decker bus. Despite being a melting pot of cultures from all over the world, there is still enough in London that can be described as 'quintessentially British' to satisfy the millions of visitors who flock there every year, not least the iconic structures of Big Ben, Tower Bridge and the London Eye.
It's impossible to see the whole city in just a few days, or even a few years, so it's a good idea to make a plan of what you definitely don't want to miss, but make sure you include some off-the-beaten track experiences, such as a visit to one of the many beautiful gardens and parks London has to offer.
Myoe Guesthouse offers comfortable, affordable accommodation in an elegant townhouse at the heart of fashionable West London. The nine rooms are clean, fresh and modern with a relaxing atmosphere. One leads out to a sunny conservatory and another has its own balcony.
Ideal for business or leisure, Myoe Guesthouse is just a short distance from Hammersmith Tube Station, providing quick and convenient transport to the city centre. In addition, the Hammersmith Apollo, the Shepherd's Bush Empire and the huge Westfield Shopping Centre are all within walking distance.
Book city bed and breakfasts in London
Bruges
A city suspended in time, Bruges is one of Europe's most-visited medieval cities. A twisting labyrinth of narrow streets, drifting canals and Golden Age architecture, the whole city has been designated a UNESCO World Heritage Site.
Whether wandering the quiet cobbled streets on a summer's eve, ice skating at the Christmas market or just tucked up at a cosy inn, it's not hard to lose yourself in Bruges' magical atmosphere.
The Swan Guesthouse is set in a fully renovated townhouse in Bruges' historic centre, just moments from the Beguinage monastery and Minnewater (also known as the Lake of Love).
With just two rooms, the guesthouse retains an atmosphere of privacy and intimacy, despite its proximity to the city centre. Both rooms boast a chic, modern design style, with private bathrooms, king-size beds and comfy robes provided. A complimentary breakfast can be enjoyed on the sunny terrace.
Book city bed and breakfasts in Bruges
Prague
One of the top tourist destinations for city breaks in Europe, Prague truly has something for everyone. Long before the cheap drinks and lively nightlife attracted the stag-do crowd, Prague was popular with visitors from all over the world for its exciting history, beautiful riverside and a smorgasbord of architectural styles.
Once you've had your fill of wandering the narrow medieval streets of the Old Town and marvelling at buildings from all periods of Prague's history, head out to one of the characterful suburbs or catch the funicular railway up Petrin Hill for some of the most rewarding views around.
Corto Old Town Pension is located close to the centre of Prague's Old Town, just moments away from the main points of interest, including Wenceslas Square, the Jewish Quarter and the Astronomical Clock.
A beautiful listed building is home to a range of rustic but well-designed guestrooms, with first-floor rooms overlooking the bustling Havelska Trznice marketplace, and newly built attic rooms enjoying impressive views looking out over the historic St. Havel Church and the city beyond. All rooms are en-suite and offer satellite television and wireless internet access.
Book city bed and breakfasts in Prague
Budapest
Budapest is one of many European cities which straddle the impressive Danube River. With the forested Buda Hills to the West and the Great Plain of Pest to the East, the manmade attractions of Hungary's capital have to work hard to compete with the natural beauty of the area, but they certainly put up a good fight.
The streets of Budapest are lined with impressive examples of Baroque, neoclassical and art nouveau architecture. Add this to a plethora of parks, museums, a beautiful river, a buzzing nightlife and even thermal baths, and Budapest can give any city a run for its money.
Budapest Rooms makes a great place to relax after all that sightseeing. A friendly, family-run bed and breakfast, this property has five stylish guestrooms, individually themed and decorated in warm, relaxing colours. Facilities include en-suite bathrooms, cable television and complimentary internet access, and guests can enjoy a full continental breakfast in the lovely kitchen. What's more, all of Budapest's historical, cultural and gastronomic delights are right on the doorstep.
Book city bed and breakfasts in Budapest
Rome
Rome is a city which lives up to all its clichés, in a good way. At once ancient and at the cutting edge of fashion, a typical street scene in Rome sees a group of friends wearing oversized sunglasses talking animatedly at a street café while tourists snap photos of a church or fountain and a pair of nuns hurry past on a holy pilgrimage, all to the buzz of a dozen espresso-fueled Vespas. It's impossible to spend a weekend break in Rome without indulging in copious amounts of pizza, pasta and gelato, and why would you want to?
Our choice of city B&B in Rome is Domus Victoria, a newly refurbished guesthouse in the Santa Maria Maggiore neighbourhood, just down the road from the famous fourth-century basilica of the same name.
The light and airy guestrooms have been finished in cool, earthy tones, providing a peaceful haven in the heart of Rome. Fan-cooled, and with large windows looking out over the city streets, each room features an en-suite bathroom, television, free WiFi and tea/coffee-making facilities. A metro stop is located right outside, and friendly, multilingual staff will help you make the most of your time in Rome.
Book city bed and breakfasts in Rome
Berlin
With a few notable exceptions, much of the architecture of old Berlin was destroyed in the bombing raids of World War II. Regrettable as that may be, it has paved the way for a city which inspires a stream of adjectives: innovative, exuberant, tolerant, youthful, adaptable, original.
With a history that is at times unfathomably dark and at others glorious, Berlin has recovered quickly from its bleaker moments, and Berliners are a welcoming and educated people who work hard to make their city a capital of art, culture and fashion, with a plethora of restaurants, theatres, cafés and nightclubs jumping until the wee hours of the morning.
Set in a typical Berlin townhouse, 1A Apartment has a range of clean and cosy single, double, triple and quadruple rooms, well-equipped and decorated in bright, cheerful colours. All rooms have en-suite bathrooms, cable televisions and refrigerators, and some even have balconies overlooking a quiet inner courtyard.
1A Apartment is located in the lively Prenzlauer Berg, surrounded by the beautiful buildings of the Schönhauser Allee. Once divided by the Berlin Wall, this area is now the home of the city's best nightlife, with plenty of lively cafés, bars and restaurants.
Book city bed and breakfasts in Berlin
Barcelona
Barcelona has been the muse for numerous great artists including Picasso, Dalí and Gaudí, and it's sure to inspire you too. Spain's most cosmopolitan city and one of the Mediterranean's busiest ports, Barcelona really has it all: excellent cuisine, a vibrant nightlife, great shopping and a seaside setting.
The city's artistic heritage is hard to miss, with architectural treasures on all sides. The most iconic examples are the legacy of the surrealist artist Antoni Gaudí, and include the organic curves of La Pedrera, the dreamlike dimensions of Parc Güell and the imposing towers of the Sagrada Familia.
Located in Barcelona's famous Gothic Quarter, just a few minutes from the Ramblas, is the stylish Vrabac. Set in a modernist building with ten well-appointed guestrooms, the owners of this unique guesthouse aim to make guests feel at home while still offering the luxury of a holiday.
The rooms in this gay friendly city centre bed and breakfast are fashionably decorated, with a quiet, restful atmosphere. Guests are greeted with a welcome drink, and breakfast and light meals are prepared onsite.
Book city bed and breakfasts in Barcelona
Amsterdam
Amsterdam centres around the Dam, a lively throng of tourists with cameras, locals on bicycles and greedy pigeons, bordered by the Royal Palace on the western side and overlooked by the National Monument, a white stone pillar erected in the centre of the square as a memorial to the victims of World War II.
Away from the centre, Amsterdam is considerably calmer, made up of a network of characterful streets and graceful canals lined by charming old villas. While Amsterdam is famous for its open minded approach to life, even it's seedier side is not so seedy; rather it's bright, colourful and even fun, and certainly easy to avoid in favour of more sophisticated sights, such as the Vondelpark or the Museumplein.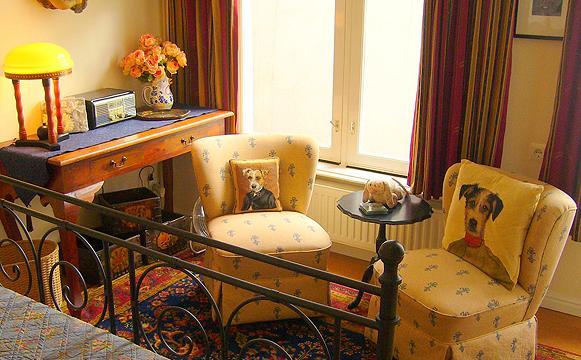 Boogard's Bed and Breakfast is located between four of Amsterdam's most picturesque canals on the historic Langestraat, an elegant street of former merchants' houses.
The B&B has two rooms, the Pug Room and the Jack Russell Room, charmingly themed for their namesakes and both equipped with en-suite bathrooms, queen-size beds, leather chairs, televisions, DVD players, wireless internet access and air conditioning. Amenities include a cosy living room with a wet bar and complimentary home baked goodies and a dining room, where a full breakfast is served.
Book city bed and breakfasts in Amsterdam
Do you have a B&B or guesthouse in one of the destinations featured? Visit our sign up page to list your property with BedandBreakfastworld.com.
By Eleanor Brown
Find BedandBreakfastworld.com on Facebook or follow us on Twitter, or catch up with our blog for top B&Bs and industry news.