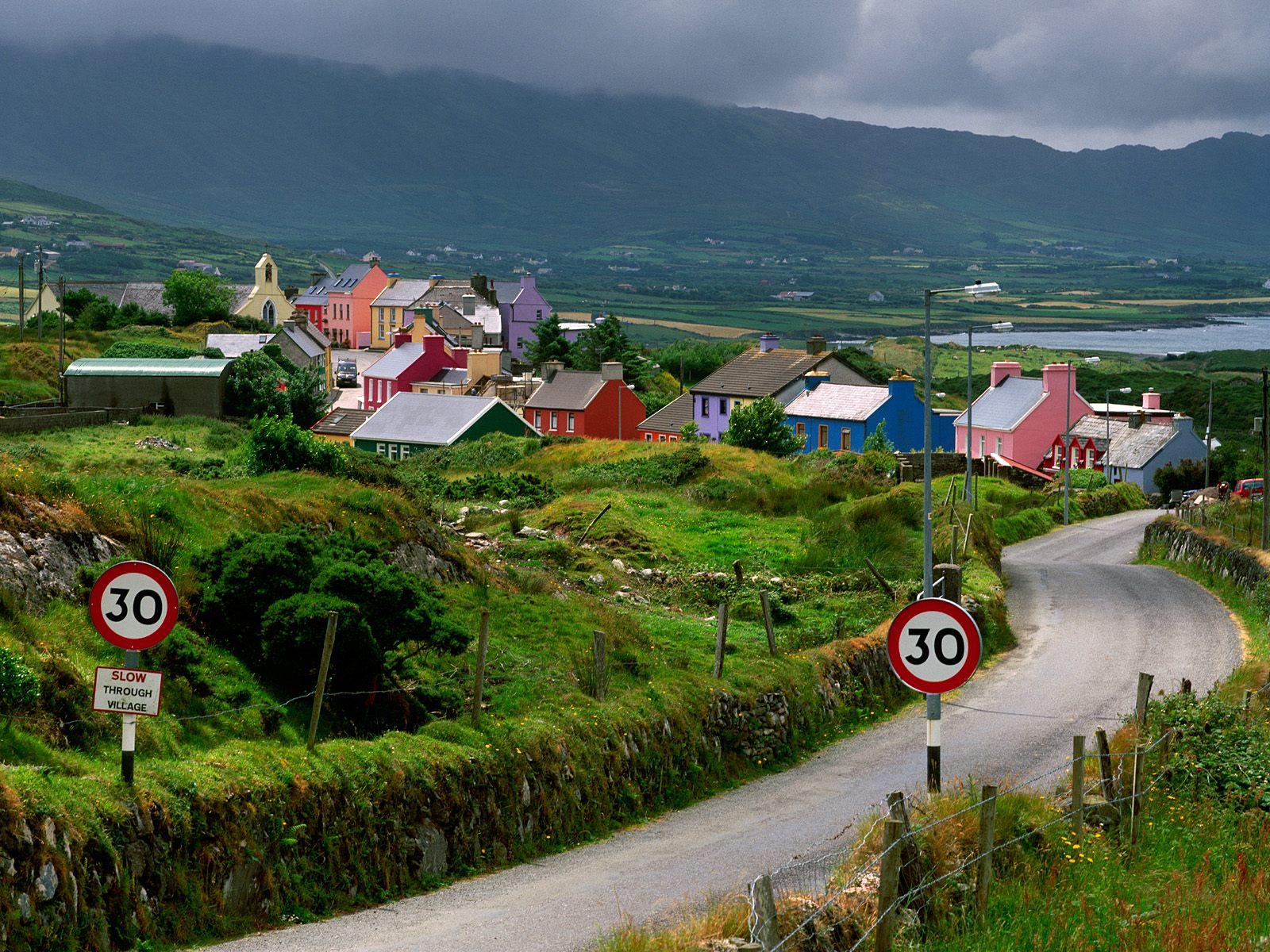 Picturesque seaside villages, stunning mountain and coastal scenery, colourful pubs hosting traditional Irish music, not to mention some of Ireland's best seafood, County Cork offers everything that people come to the Emerald Isle looking for.
Cork City is more modern, with a good selection of designer shops and fancy restaurants clustered around St. Patrick's Street at the centre of town, but its citizens remain down-to-earth and friendly, whether or not you can decipher their unique accent, and in the cobbled streets and somewhat-ramshackle houses of Shandon, you can still catch a glimpse of the Ireland of days gone by.
Cork has played a key role in Ireland's history, particularly during the struggle for independence. Set on an island in the middle of the River Lee, it is still jokingly referred to as the 'People's Republic of Cork', and remains proudly independent of Dublin.
Things to do in Cork
• The English Market One of Cork's top attractions is the wonderful English Market, a large collection of indoor food stalls squeezed into an elegant 18th-century market hall and the oldest of its kind. The emphasis is on fresh, local produce, so it's a great place to sample some of the region's famous seafood or to pick up some goodies for a picnic lunch.
• Cork City Gaol History buffs will enjoy a tour of Cork City Gaol, a slightly grim but moving look at the harsh punishments of the 19th-century penal system in Ireland, when many were sentenced to hard labour for nothing more than stealing a loaf of bread. Night tours are available for the brave! In the same building is the National Radio Museum.
• St. Finbarre's Cathedral Perhaps Cork's grandest landmark, St. Finbarre's Cathedral is an impressive mix of Gothic French and medieval architecture with an elaborate display of grandeur both inside and out. Consecrated in 1870, the cathedral is located to the south of the city centre, on the site where St. Finbarre, Cork's patron saint, constructed his monastery in the 7th century.
• Cork Public Museum Set in Fitzgerald Park, in the former residence of the Beamish family, the Cork Public Museum provides an overview of Cork's history from the Stone Age up to the present day. The museum's collection includes fine examples of Cork silver and glass work.
• Beamish & Crawford Brewery No trip to Ireland is complete without a sample of the local tipple, and while Dublin has the Guinness Storehouse, Cork has the Beamish and Crawford Brewery. Take a tour of the oldest porter brewery in Ireland and finish by pouring your own pint in the bar.
Cork Events
As a university city, Cork has a lively, creative atmosphere and a full calendar of events and festivals.
• Cork International Choral Festival (April-May)
• Cork Pride (May/June)
• Cork Midsummer Festival (June)
• West Cork Chamber Music Festival (June-July)
• Corona Cork Film Festival (October)
• Guinness Cork Jazz Festival (October)
• Cork Film Festival (November)
The Blarney Stone Guesthouse
Stylish, four-star guest house The Blarney Stone provides luxury accommodation and a fantastic breakfast right at the heart of Cork city centre. A range of elegant, individually decorated guest rooms are all equipped with WiFi, satellite TV and en-suite bathrooms, while an extensive breakfast menu of over 30 options, always freshly prepared, ensures a great start to a day's exploring.
Book Cork B&B The Blarney Stone Guesthouse
Garnish House
Make yourself at home at Garnish House, a cosy B&B offering friendly service and a restful atmosphere just on the edge of Cork city centre, next to University College Cork and the picturesque Fitzgerald Park. As well as modern, well-appointed guest rooms, the property boasts a peaceful garden and a cosy fireplace lounge, where newly arrived guests can enjoy a complimentary afternoon tea of homemade cakes and freshly baked bread.
Book Cork B&B Garnish House
Getting around
Cork has its own international airport, located 8km south of the city. The bus station is located near St. Patrick's Street in the city centre and the train station is on the north bank of the River Lee. There are plenty of connections to major destinations in Ireland as well as local services, and taxis are easy to find, although the centre is easily walkable.
Around Cork
• Blarney Castle & The Blarney Stone It has to be done. Even the most scathing of tourists will find it hard to leave Cork without a stop at Blarney to give the famous stone a quick peck. Join the queues climbing the stone spiral staircases to bend backwards over the battlements and kiss the Blarney Stone in the hope of receiving the gift of eloquence. Once that's out of the way, you can enjoy the fascinating history of Blarney Castle and explore its peaceful gardens.
• Fota Wildlife Park The south coast of Ireland may not be the first place you'd expect to see a kangaroo hopping by, a cheetah chasing its prey or a monkey swinging through the trees, but the Fota Wildlife Park has all this and more. The park is completely cageless, providing a great experience for both humans and animals. Also on the grounds are the elegant Regency-style Fota House and a Victorian arboretum.
• Kinsale Kinsale is one of those picture-postcard towns you always hope still exist. But its not just the charm of the narrow winding streets, colourful houses and craft shops that brings visitors by the dozen; Kinsale is also known as the gourmet capital of Ireland, boasting more than its fair share of world-class restaurants. Book B&Bs in Kinsale
• Western Cork The west half of the county boasts some of Ireland's most impressive scenery, from the heather-covered cliffs and pebble beaches of Irish-speaking Clear Island to the rocky mountains and sweeping green valleys of the Beara Peninsula. Connect with the ancients at the region's numerous stone circles or lose yourself for hours in the beautiful gardens of Ilnacullin Island. Find B&Bs in Bantry and Baltimore
Neighbouring County Kerry is easily reached, with attractions including the Ring of Kerry, the Dingle Peninsula and Killarney National Park. See our guide to Killarney B&Bs.
To find out more about things to see and do in Cork, visit CometoCork.ie, or for information on Ireland in general, go to DiscoverIreland.com.
Do you own a Cork B&B? Sign up for free to BedandBreakfastworld.com to receive online bookings in real time.
By Eleanor Brown
Find BedandBreakfastworld.com on Facebook or follow us on Twitter, or catch up with our blog for top B&Bs and industry news.