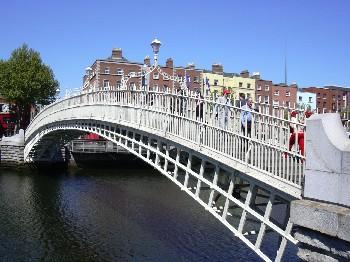 Just as Irish people have for centuries travelled the world seeking their fortune, so the world has come to Dublin, turning the city into a modern, vibrant and cosmopolitan capital, as well as one of the most expensive cities in the world.
The top-class international cuisine, thriving arts scene and scores of trendy bars do not detract from the essentially Irish feel of the place, although visitors hoping for old stone cottages and fields of sheep will have to look elsewhere. Dublin is a city which is constantly looking forward, building, developing and creating, while still remaining fiercely proud of its past.
And it's quite a past. A city immortalised in story and song, Dublin's history is multi-layered, often turbulent and always intriguing. But it is these trials and tribulations which are said to have given the Irish people their sharp wit and welcoming attitude, earning them a reputation as the world's friendliest nation.
What keeps Dublin ticking is its social life, and it's the locals themselves that really give the city that certain something; usually grumbling about the weather on the outside, Dubliners remain ever optimistic on the inside and are always willing to share the craic with visitors to their city.
That central Dublin is relatively small is part of its charm; by the time you've navigated your way from O'Connell Street to Grafton Street, with a stop off in one of Temple Bar's famous drinking establishments en route, you'll have already begun to think of yourself as an honorary Dubliner.
Things to do in Dublin
Don't Miss! It may be cheesy, but having your photo taken by the voluptuous statue of Molly Malone at the northern end of Grafton Street is practically compulsory for every visitor to Dublin.
Dublin Events
Dublin Bed and Breakfasts
Merrion Hall
Merrion Hall is a beautiful boutique guesthouse set in a privileged location in Ballsbridge, one of Dublin city centre's most elegant areas, close to the RDS and the Aviva Stadium.
Rooms are luxurious and well-appointed with free WiFi, satellite TV, telephones and hospitality trays. Full en-suite bathrooms are stocked with complimentary toiletries and the comfy beds are dressed in the finest linen.
An award-winning breakfast is served up in the period-style dining room, while afternoon tea, light meals and drinks can all be enjoyed in the drawing room and library, the perfect locations to relax and unwind.
Book Dublin bed and breakfast Merrion Hall
The Mercantile
Just minutes from Temple Bar, Trinity College and Grafton Street, The Mercantile is ideally located for discovering everything Dublin has to offer.
A range of 28 bright and spacious rooms have all been decorated to reflect our warm and friendly atmosphere, with comfort and relaxation in mind. All rooms feature free WiFi, television, telephones and hairdryers, and many offer great views over the River Liffey.
Downstairs, the Mercantile Bar & Grill serves up top-quality food at very reasonable prices, making a great place for city centre dining. Burgers, fresh soups and the stew of the day are all made using only the finest Irish produce.
Book Dublin bed and breakfast The Mercantile
See more Dublin bed and breakfasts
Getting around Dublin
Dublin Airport, with its newly opened second terminal, is located 13km north of the city centre, with regular buses and coaches running between the two. Dublin has two ferry terminals, Dublin Port and Dun Laoghaire, and the main bus and train stations (Busáras and Connolly Station) are located right in the city centre.
Parking in the city centre can be expensive, but with plenty of buses, trains, trams, taxis, a public bike rental system, and the fact that most of Dublin can be easily reached on foot, it's unlikely you'll need a car to get around.
Around Dublin
Dublin has a number of picturesque seaside villages and towns to its north and south, perfect for a day trip out of the city.
To the north is the attractive Howth Peninsula, with its pretty village, castle, lighthouse and golf course. Climb to the summit for great views across Dublin Bay and down to Wicklow, or take a boat to the tiny island of Ireland's Eye, a sea-bird sanctuary. Make sure you don't leave without sampling some of the excellent seafood at one of the village's restaurants.
A few kilometers north of Howth is Malahide, an attractive town with a busy marina and plenty of boutique shops and fine restaurants. Malahide also has a castle, which dates back to the 12th century and holds a fine collection of antique furniture and paintings, as well as a resident ghost.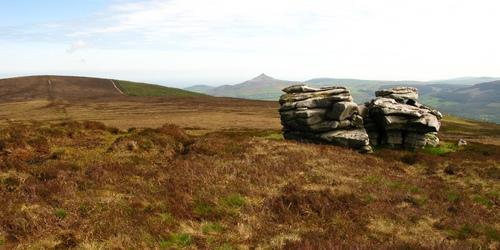 To the south of Dublin is Dalkey, a small village which boasts no less than four castles, two ancient churches, several holy wells and its own island.
Fans of the great outdoors should head down to the stunning Wicklow Mountains, where the 127km Wicklow Way passes through some of Ireland's most beautiful scenery, taking in lakes, waterfalls and ancient ruins. Glendalough is particularly worth a visit, with two dark lakes and the remains of a monastic settlement tucked into a forested valley.
Direct trains run from Dublin to all corners of Ireland, meaning that you can find yourself in the likes of Kilkenny, Belfast, Cork and Galway within a few hours.
To find out more about things to see and do in Dublin go to VisitDublin.com, or for information on Ireland in general, visit DiscoverIreland.com.
Book a bed and breakfast in Dublin
Do you own a guesthouse or bed and breakfast in Dublin? Visit our sign up page to list your property with BedandBreakfastworld.com.
By Eleanor Brown
Find BedandBreakfastworld.com on Facebook or follow us on Twitter, or catch up with our blog for top B&Bs and industry news.