You've worked hard to create a top B&B and finally have a property you can really be proud of, so there's no sense in letting all your hard work go to waste with a bad photo.
We see so many potentially lovely properties let down by bad composition, bad angles, bad lighting or just a poor choice of subject matter.
First impressions are everything, so BedandBreakfastworld.com is here to help you really capture a booker's attention before they move on to view the next B&B.
Inside your B&B
Even good-sized rooms can appear small in photographs; try standing in the doorway or taking the picture from outside through an open window to show the full size of the room.
Choose your angle carefully; taking photos from corner to corner or from a low angle helps to make the room appear larger.
If space is tight, taking a photo of the room reflected in a mirror can give an interesting effect. Just make sure you don't catch your own reflection in the shot!
When composing your picture, make sure that everything in the frame is there deliberately; move any trailing wires, pick up that odd shoe, and, if you're photographing the bathroom, make sure the lid of the toilet is down! If there's a fireplace in the shot, light a fire; if there's a window, make sure that the view outside is appealing (and vice versa for exterior photos).
Once everything looks spotless, light some candles for atmosphere and arrange a bunch of flowers to brighten the room and keep it looking fresh.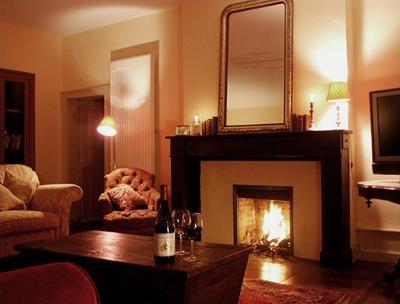 Guests will book rooms which seem light, airy and spacious, so always take photos of your rooms during the day. Avoid using the flash if possible as it can make a picture look cold. Instead, open the curtains and bring in as many extra lights as possible. A night-time shot might work for a cosy-looking lounge, but the lighting will be harder to get right, and you will need to use a tripod.
Outside your B&B
Providing an exterior photo of your B&B is important for building up the whole picture for potential bookers, as well as helping guests to find you when they arrive.
First, prepare your subject. Mow the lawns, trim the hedges, sweep the leaves and open the curtains.
Take your exterior photos on a sunny day if possible! Make sure the sun is behind you and donÂ't take pictures at midday as the light is too harsh. It's worthwhile using a polarising filter if you have access to one, as this will diffuse the light, cut down on reflections and make the colours appear more vivid.
Using a smaller aperture will give a wider depth of field, meaning you'll be able to get the whole house in focus.
Taking a photo at night can make a house look really cosy and inviting. Open all the curtains, turn on all the lights and use a tripod. Twilight is the best time to take a night photo, and if you can, set the ISO (film speed) to 400 or more to stop pictures looking grainy.
General tips:
Take photos of each room. If you only have one or two pictures, however nice they are, it may seem like you have something to hide. Guests want to see the whole property, so try to include at least five photos, ideally a couple of guestroom shots, a (tasteful!) bathroom shot, a breakfast room or lounge shot and at least one exterior shot. If your guestrooms are themed, include a photo of each one; this will help your B&B to stand out and really reflect the feel of the place. It never hurts to include a photo of breakfast, either, to whet guests' appetites.


Sometimes a space is shown off best when in use, but if you are including people in your shot, make sure they adopt relaxed and natural-looking poses so the picture does not turn out too cheesy or contrived.


Use a high resolution and play with the focus, switching between the middle ground and the foreground.


Avoid using effects like fisheye or over-editing your pictures - you want potential bookers to see the subject, not the photograph.


And finally, take lots of photos and don't be afraid to experiment - you can always be selective later. Once full size you might see some unwanted detail you didn't notice when taking the photo, and you'll be pleased to have a back up taken from a different angle. By contrast, sometimes an accident can turn out to be your best shot. Only use photos for marketing that really do your B&B justice.
We'd love to hear from you if you've found this guide to taking great B&B photos useful. Visit us on Twitter or have a look at some of our top B&B's and upload your own photos on Facebook to share photos of your B&B with us.
Do you have a B&B or guesthouse that you'd like to show off? Visit our sign up page to list your property with BedandBreakfastworld.com.
By Eleanor Brown
Want to keep up to date with all the latest news, offers and hot properties from BedandBreakfastworld.com? Follow our BedandBreakfastworld blog.