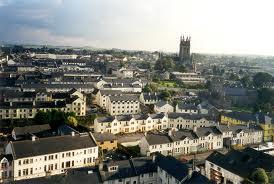 Located on the banks of the River Nore amid the beautiful countryside of South East Ireland, the charming city of Kilkenny is one of the Emerald Isle's most visited cities. As the best-preserved medieval town in the country, it's a must-see for anyone interested in Irish history or culture, but it has plenty to offer the casual tourist as well.
The centre of Kilkenny is watched over by two of its top attractions, the majestic St. Canice's Cathedral and Kilkenny Castle. Much of the city's architecture dates back to the Middle Ages, when Kilkenny was an important seat of political power. Other cities in Ireland may have taken the lead in that respect, but Kilkenny remains a vibrant cultural centre.
The cobbled streets and 'olde worlde' facades hide a surprising selection of fashionable boutiques, stylish bars and innovative restaurants, meaning that Kilkenny appeals to trendy young professionals as much as history buffs. The centre is home to approximately 80 pubs, a huge number for such a small area, which pump out a mix of modern and traditional music until the wee hours, turning Kilkenny from a quaint medieval town in daylight to a top nightlife destination come nightfall.
Its compact size makes Kilkenny easy to cover on foot, meaning you can adopt a more relaxed pace and take time to explore every inch of the fascinating medieval streets, the interesting shops and the lively pubs.
Things to do in Kilkenny
• Kilkenny Castle One of Ireland's most popular heritage sites, a castle has stood at this strategic bend in the River Nore since the 12th century - first a wooden structure then a stone castle with four towers. Beautiful parkland extends over 20 hectares and the castle's basement is home to the popular Butler Gallery, where exhibitions are held throughout the year. Guided tours are available.
• St Canice's Cathedral Standing proudly at the north end of town is the Gothic structure of St Canice's Cathedral, the second-largest medieval cathedral in Ireland. The first monastery was reportedly built in the 6th century by St. Canice, Kilkenny's patron saint, and the site's fascinating history can be traced through a series of disastrous events resulting in numerous reconstructions.
• Rothe House A beautifully preserved 16th-century merchant's house located in the centre of Kilkenny, Rothe House boasts a small museum of locally found artefacts, including a Viking sword and Celtic stonework. The elegant Tudor house is built around a number of charming courtyards with a reconstructed medieval kitchen garden and orchard.
• Black Abbey A Dominican abbey founded in 1225 by William Marshall, Black Abbey takes its name from the black habits worn by the monks. Reduced to ruins by Oliver Cromwell in 1650, the abbey was restored to something resembling its former glory in the 19th century, and is still open daily for mass.
Kilkenny Events
• Guinness Kilkenny Rhythm and Roots Festival (April-May)
• Carlsberg Cat Laughs Comedy Festival (June)
• Kilkenny Arts Festival (August)
• Kilkenny Celtic Festival (September - October)
Fanad House
Combining great value accommodation with traditional Irish hospitality, owner Pat Wallace welcomes guests to Fanad House. Set overlooking the beautiful castle gardens, this Kilkenny bed and breakfast is just a 5 minute walk from the city centre. Each of the 12 en-suite rooms has been carefully designed to provide maximum comfort, while a collection of hand-selected art means that each room is individual. Along with modern facilities and imaginative cuisine, the attention to detail Pat offers each guest makes a stay at Fanad House unforgettable.
Book Kilkenny bed and breakfast Fanad House
Brandon View B&B
Set amid scenic countryside half an hour outside Kilkenny city, Brandon View B&B is a charming family home providing a warm welcome and a cosy, relaxing atmosphere. Large, modern guest rooms are furnished with comfy beds, en-suite bathrooms and wireless internet access, and a wholesome complimentary breakfast is served in the bright and friendly dining room. The charming village of Graiguenamanagh, with its selection of traditional pubs and restaurants, is just a short distance away.
Book Brandon View B&B in Kilkenny
See more Kilkenny B&Bs
Getting around
Kilkenny is an easy drive from Dublin and can be reached in less than 2 hours at a relaxed pace. The city's main bus and train stations are located close to John Street and the closest airports are Dublin and Shannon. There is plenty of parking in Kilkenny itself, and those who don't want to walk can easily rent a bike or hop in a taxi.
Around Kilkenny
• Kells Priory Located in the village of Kells 13km south of Kilkenny, Kells Priory is one of Ireland's most impressive monastic sites and dates from the late 12th century. The site consists of seven towers, an Augustinian abbey and the foundations of some chapels and houses. With no opening hours or restrictions, you're free to wander where you like and are sure to find a moment of peace and solitude among the ruins.
• Bennettsbridge Visitors looking for an original souvenir will love Bennettsbridge, a small town 7km south of Kilkenny which is treasure trove of local arts and crafts. Locally made items on offer include pottery, linen, woodwork, leather and handmade candles.
• Rock of Cashel Further afield, approximately one hour from Kilkenny, is one of Ireland's most fascinating archaeological sites. The Rock of Cashel was an important seat of power for more than a millennium, and the cluster of medieval religious buildings perched atop a grassy hill casts an impressive outline from the neighbouring town of Cashel. Highlights include the 12th-century Cormac's Chapel and the 13th-century Gothic cathedral.
Kilkenny is within easy reach of popular towns in Ireland including Wexford, Waterford, Carlow and Wicklow, as well as the beautiful scenery of the Wicklow Moutains.
To find out more about things to see and do in Kilkenny, visit KilkennyTourism.ie, or for information on Ireland in general, go to DiscoverIreland.com.
Do you own a Kilkenny bed and breakfast? Sign up for free to BedandBreakfastworld.com to receive online bookings in real time.
By Eleanor Brown
Find BedandBreakfastworld.com on Facebook or follow us on Twitter, or catch up with our blog for top B&Bs and industry news.