What makes you book a bed and breakfast? Price? Location? The promise of a freshly cooked breakfast every morning? Well for most of us it's all of these, along with the personal touch and the friendly, family atmosphere that you only find in a B&B.
So here at BedandBreakfastworld.com, we thought we'd give you the opportunity to meet your hosts before you book, as well as finding out some of the secrets of running a B&B.
Today's B&B is Egans House, an elegant, three-star guesthouse in Dublin, Ireland. Meet owners Pat and Monica Finn, who have over ten years' experience offering warm hospitality to guests from all over the world...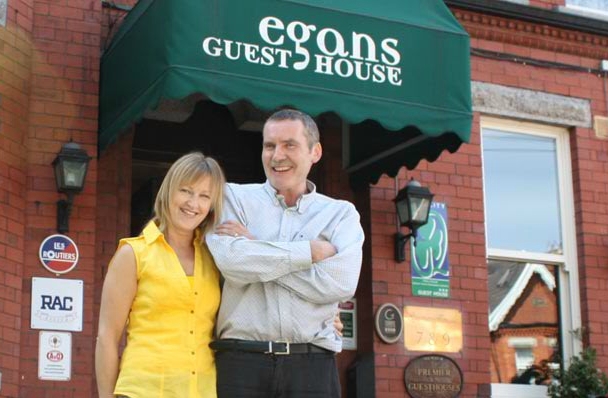 What is your favourite thing about Dublin?
My favourite thing about Dublin is its friendly atmosphere. The feedback from guests is that people are very warm and helpful generally, especially when they seek information regarding places they wish to visit.
Dublin has a variety of unique visitor attractions. The most popular I believe is Dublin Zoo, then the Guinness Storehouse and the Jameson Distillery.
What has been your most memorable moment running a B&B?
That is difficult to narrow down to one experience, but I think for me the most memorable moment was 9/11, 2001. American visitors were totally shocked and unprepared. They couldn't leave the airport as their flight home was cancelled indefinitely due to the crisis. Some who had stayed at Egans House returned to us so we decided to give them complimentary rooms for a couple of nights to help them in their difficult situation. They were so appreciative at the time and if felt good to be involved in some small way at this difficult time.
Which breakfast item served at Egans House is most popular with your guests?
I would have to say our scrambled egg, - it is a firm favourite with guests.
What compliment do you most frequently receive from guests?
The very friendly service and relaxed atmosphere they experience when they stay here.
What has been your strangest moment running a B&B?
My strangest moment was when I found a man wandering along the corridor naked with shampoo in his hair thinking he was going into the shower, but instead was in the corridor outside his room. I think he had poor eyesight! It certainly was memorable!
What's the strangest thing you've ever found left in a bedroom?
That is tricky - a homemade hanging noose and, on another occasion, a blow-up doll!
What's your favourite thing about running a B&B?
Each day brings something new and challenging to deal with. It amazes me that no matter how long you are in the business (for us it is our 11th year), I find I am constantly learning new things. There is a high diversity of people with different needs and expectations and you constantly have to find ways to meet them. The highlight is when they do come back again and again and they tell us they feel they are at home.
Egan's House is located in the quiet residential area of Glasnevin, just a short bus ride from the city centre. The well-appointed rooms are all individually decorated and equipped with en-suite bathrooms, TV and WiFi. A tasty breakfast is served up each morning and families are welcome.
Read more about Egans House and make a secure online booking
Do you own a B&B? Want to give guests a chance to get to know you? Email us and let us know, or find BedandBreakfastworld.com on Facebook and Twitter.
Sign up your property to BedandBreakfastworld.com and receive confirmed online bookings from a network of over 3,500 top travel sites. Visit our sign up page for your free listing.