From medieval castles to picturesque white-washed villages, and from rolling countryside to golden beaches, Portugal really does have it all. Tucked away in the bottom corner of the Iberian Peninsula, on the edge of the Atlantic, Portugal is often overlooked by holidaymakers for its big brother, Spain, but loyal supporters will tell you that Portugal has its own rich culture, with a colourful history of seafarers and explorers.
A rugged coastline of sheltered coves, sandy dunes and pristine beaches, combined with a Mediterranean climate, has proved irresistible to holidaymakers, but the larger seaside resorts are still outnumbered by sleepy fishing villages.
BedandBreakfastworld.com has a range of accommodation in Portugal, from country villas and townhouse B&Bs to pousadas and pensaos (traditional Portuguese guesthouses). Read our guide to some of Portugal's most popular locations, including Lisbon, Porto and the Algarve, and start planning your summer holiday!
Lisbon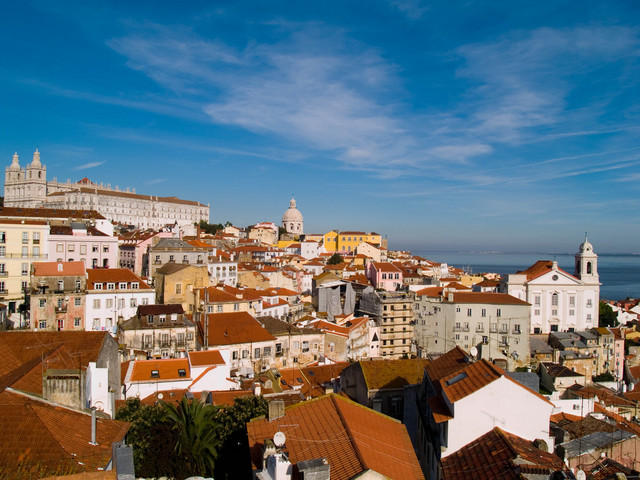 With enough history and culture to rival any European city, Lisbon still manages to maintain that small-town feel. Bright yellow trams run up and down cobbled streets sprinkled liberally with cathedrals, monasteries and museums, while a young and artistic vibe is reflected in the eclectic selection of art galleries, shops, bars and restaurants. Divided into a series of diverse neighbourhoods, each with its own unique personality, major attractions in Lisbon include the Jeronimos Monastery, the Tower of Belém, São Jorge Castle and the Gulbenkian Museum.
Book a pensao or hostal in Lisbon
Lisbon Dreams Guesthouse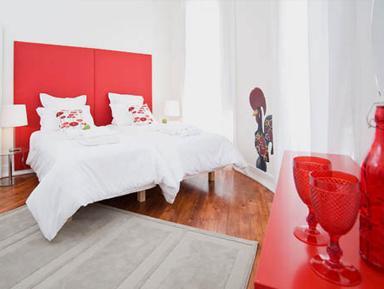 Lisbon Dreams Guesthouse offers a touch of luxury accommodation in Lisbon at affordable prices. Recently renovated, it offers a range of light and airy guest rooms featuring a simple but stylish design scheme. Fluffy towels, bathrobes and slippers are provided to help you feel at home and a full breakfast is included in the rates. Outside, two sunny patios provide the perfect spot for relaxing in the sunshine and enjoying a glass or two of Portuguese wine. Lisbon University Botanical Gardens are just down the road, as well as the beautiful Parque Eduardo VII.
Book Lisbon Dreams Guesthouse
Porto
Porto is a vibrant and varied city located in northern Portugal, just a few kilometers from the coast. With a history dating back to Roman times, Porto boasts a diverse mix of architectural styles, from baroque cathedrals to medieval alleys to graceful boulevards. The whole of the historic centre is a UNESCO World Heritage Site, and in 2001, Porto was named a European Capital of Culture. Wine buffs can enjoy a glass or two or port in its original home, while football fans can head to the grounds of FC Porto or Boavista.
Book villas and pousadas in Porto
Roses Village
An elegant Portuguese villa dating back over a hundred years is home to Roses Village, a beautiful guesthouse on the outskirts of Porto. Rooms are sunny, spacious and beautifully decorated, and a typical Portuguese breakfast is served up each morning. The manicured gardens feature a good-sized swimming pool, and a sandy beach can be found just a few minutes away.
Book Roses Village in Porto
The Algarve
The Algarve has long been Portugal's premier holiday destination, and with good reason. Stretching along the southern edge of the country, it boasts a 150km coastline of beautiful beaches and crystal clear waters, interspersed with towns including the buzzing Lagos and the elegant and relaxed Tavira. Have a look at our selection of villas in the Algarve and see if anything takes your fancy.
Search by map for a villa in the Algarve
Cascais
Situated less than an hour's drive from Lisbon, the exclusive seaside resort of Cascais is a popular spot for weekend breaks from the city. Set on the Estoril coast, the town has a few small beaches and was originally a quiet fishing village, but during the 19th century it became the chosen holiday destination for the Portuguese royal family. Cascais is a popular destination for golf, sailing and watersports, and boasts a harbour, a casino, a lighthouse, a museum and some attractive parks.
The popular Guincho Beach can be found to the west of Cascais, while the beautiful Sintra Mountains are located to the north.
Book a guesthouse or villa in Cascais
Pergola House
Live like royalty at Pergola House, a graceful 19th century mansion set at the heart of town and surrounded by colourful Mediterranean gardens. Richly decorated with elegant furniture, antique paintings and traditional Portuguese tiles, this sumptuous Cascais villa offers luxurious accommodation in 10 beautifully furnished guest rooms along with an atmosphere of peace and tranquillity. A tempting continental breakfast is included in the rates.
Book Pergola House in Cascais
Faro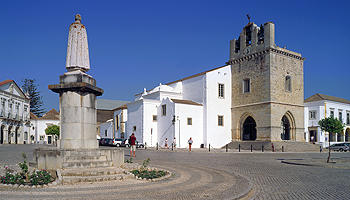 As the capital of the Algarve, Faro is a lively city with a distinctly Portuguese feel. As well as an attractive marina, the city centre boasts plenty of clean and spacious parks and plazas and a pedestrianised old town of winding lanes and street cafes. An international airport, vibrant nightlife and great nearby beaches all add to Faro's popularity as a holiday destination.
Book hostals or villas in Faro
Casa Charneca
Situated just to the north of Faro, in the secluded mountain area of Santa Barbara de Nexe, Casa Charneca is a charming Algarve villa with a homely feel. Accommodation comprises a number of modern en-suite guestrooms featuring air conditioning, TV, DVD and WiFi, while the house itself boasts a sauna, a jacuzzi and a swimming pool, with massage treatments available for added relaxation. A complimentary breakfast is served out on the terrace, with stunning panoramic views of the surrounding scenery.
Book Casa Charneca in Faro
Tavira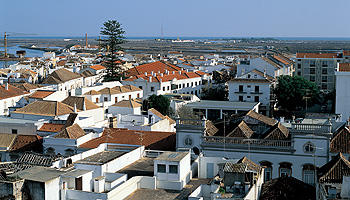 Straddling the Rio Gilão on the southern coast of the Algarve is the attractive town of Tavira, a charming blend of cobbled streets and shady plazas with an active fishing port. Points of interest in the town centre include a Roman bridge and the ruins of a castle which dates back to the 12th century. A five minute ferry journey from the town brings you to Ilha de Tavira, a beautiful island with unspoilt beaches, restaurants and a campsite. Tavira is approximately 40km from Faro International Airport.
Book a pousada or villa in Tavira
Quinta Fonta Do Bispo
Quinta Fonte Do Bispo is an elegant farmhouse villa set in a beautiful valley between Tavira and Sao Bras, just 15 minutes from the beaches of the East Algarve. Six cosy cottages make up the accommodation, each boasting a bedroom, living room, bathroom and kitchenette, and sleeping up to 4 people. Entertainment onsite includes a large swimming pool, a tennis court and a games room with a pool table, perfect for keeping the children entertained on a family holiday.
Book Quinta Fonta Do Bispo
Lagos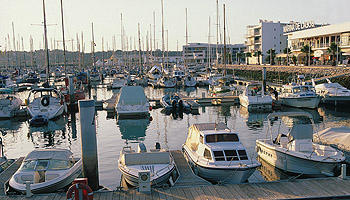 Despite its popularity with holidaymakers, and some of the best nightlife in the Algarve, the picturesque town of Lagos in Portugal's southwest corner has not lost its charm. On the banks of the Rio Bensafrim, it enjoys an attractive riverside setting, with all the historic churches, winding streets and little plazas of a typical Portuguese town tucked up inside 14th-century city walls. A long bay stretching out to the east provides a range of attractive beaches.
Book a pousada or villa in Lagos
Casa da Moura
Set in a graceful manor house dating back to 1892, Lagos villa Casa da Moura offers plenty of history along with its comfortable accommodation and great facilities. Once home to a wealthy local family, the house was later used as the headquarters of the Portuguese Legion, and then left abandoned for years before being brought back to life to reopen its doors as an elegant guesthouse. The owners have tried to include elements of the Algarve's Moorish history in their attractive décor, with many of the building materials imported from Morocco. Outside is a swimming pool and sunny terrace where breakfast is served.
Book Casa da Moura in Lagos
For more information on travel in Portugal, go to the official tourism website at
VisitPortugal.com
.
Do you own a B&B or villa in Portugal? Visit our sign up page for a free listing with BedandBreakfastworld.com.
By: Eleanor Brown
Find BedandBreakfastworld.com on Facebook or follow us on Twitter, or catch up with our blog for top B&Bs and industry news.