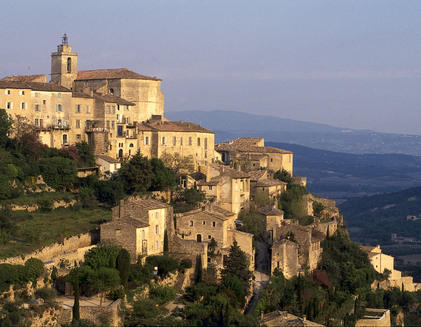 For those of us who enjoy films like A Year in Provence, it's enough just to hear the words 'South of France' to send us into a wistful daydream, imagining ourselves strolling down to the boulangerie to pick up a freshly-baked baguette, sampling pungent cheeses at the local market and washing it all down with a glass of fine wine. The reality of Provence is no less idyllic.
With a landscape that encompasses dramatic mountain ranges, rolling hills and the pristine beaches of the Côte d'Azur, you can find yourself chatting with a local in a remote medieval village one minute and rubbing shoulders with celebrities in a fashion capital the next.
Here at BedandBreakfastworld.com, we've put together a selection of our favourite Provence bed and breakfasts. Discover your joie de vivre with a Provence holiday, but be warned - you may never want to come home.
Provence Bed and Breakfasts
Built as a command post by knights of the Order of the Maltese Cross, our first Provence bed and breakfast, Domaine de la Fosse, and its neighbouring town of Saint Gilles are brimming with history. The domaine spent much of its life as a farm and vineyard, but now the fields are used to grow rice and the beautiful old farmhouse has been converted to a luxury B&B.
The two guestrooms, named Saladelle and Tamaris, are simple and rustic, with understated touches of classic French elegance such as four-poster beds and luxurious fabrics. Outside, guests can relax under the shade of a vine-covered patio or cool off in the pristine swimming pool.
In Saint-Gilles, a medieval church and crypt make a fascinating place to visit, and the town's twelfth-century abbey is a UNESCO World Heritage Site and one of the stops on the Camino de Santiago. Outdoor activities available nearby include horse riding and boating or canoeing on the Petit Rhône, and guests can even try their hand at hunting in the grounds of the domaine.
Book Provence B&B Domaine de la Fosse in Arles
The gentle sound of cicadas in the evening is all that will keep you from absolute peace and quiet at Mas des Marguerites, three kilometres from Baux de Provence. Five individually themed rooms and suites are tastefully decorated in subtle, soothing tones, all south facing with private terraces opening out on to the lush garden and the swimming pool.
Guests can enjoy an afternoon stroll through the narrow streets of Maussane les Alpilles, sampling local delicacies at the village restaurants, then return to the B&B to take in some classical music at one of the concerts hosts Guy and Cecile host regularly in the lavender garden.
The B&B has a large kitchen, dining room and fireplace lounge for guests' use, and those wanting to take a piece of Provence home with them can try their hand at painting some of the local scenery or creating a traditional boutis quilt in the recreation room.
Book Provence B&B Mas des Marguerites in Baux de Provence
A beautiful mansion on the outskirts of the ancient town of Orange was lovingly restored to its former glory to become luxury guesthouse Villa de l'Arc. The light and airy en-suite rooms enjoy views out over the swimming pool and the grounds, and are comfortably furnished in typical French style.
Less than an hour from the beaches of the Mediterranean, Orange encapsulates the charm of a Provencal town, with its picturesque streets, open-air market and charming cafés set on the sunny town square.
The town also boasts centuries of fascinating history. As well as being the place of origin of the Dutch Royal family, it is also home to two ancient Roman monuments, both listed as UNESCO World Heritage Sites. The first is a large amphitheatre, where opera and classical music concerts are still held on warm summer nights, and the second is a virtually pristine triumphal arch, which gives Villa de l'Arc its name.
Book Provence B&B Villa de l'Arc in Orange
Located at the centre of fashionable Marseille, the hub of Provence chic, Pension Edelweiss places a modern twist on classic French style. Each of the four guestrooms has its own distinct personality, decorated in bright colours and furnished with an eclectic selection of mismatched vintage pieces collected by the owners over the years.
All of the rooms feature en-suite bathrooms, flatscreen TVs and WiFi, and a complimentary breakfast is served in the owners' café, the Comptoir Dugommier, during the week, and in the pension's funky dining room on weekends.
Pension Edelweiss is located just a ten-minute walk from Marseille's picturesque Port Vieux, a vibrant area at the heart of the city with plenty of lively bars and excellent restaurants.
Book Provence B&B Pension Edelweiss in Marseille
An elegant country manor surrounded by wooded parkland, vineyards and olive groves is home to La Bastide des Templiers, a charming Provence B&B located just outside the medieval village of Bas, in an area of France that enjoys 300 days of sunshine a year.
Owners Harald and Joël offer a personal touch as they welcome guests to their home. The five guestrooms are decorated in a comfortable style with typical Provencal features such as wooden-beamed ceilings and terracotta tiling, and a generous and nutritious breakfast is served up every morning.
Encapsulating the refined charm of life in Provence, guests can relax by the pool and enjoy the soft scents of lavender, rosemary and oleander, or escape the heat of the midday Mediterranean sun in the shade of century-old pine trees, with a cool glass of local rosé in hand.
Book Provence B&B La Bastide des Templiers in Saint-Maxim
To find out more about things to see and do in Provence go to VisitProvence.com, or for information on France in general, go to FranceGuide.com.
Do you own a Provence bed and breakfast? List your property for free on BedandBreakfastworld.com.
By Eleanor Brown
Find BedandBreakfastworld.com on Facebook or follow us on Twitter, or catch up with our blog for top B&Bs and industry news.