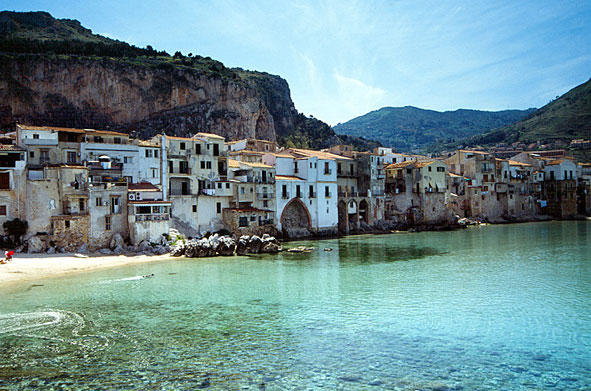 Far more than just Mount Etna and the Mafia, Sicily is a complex and energetic blend of ancient history, modern culture, sparkling seas and, of course, excellent food. On the coast visitors are drawn to miles of golden beaches, while inland attractions include no less than five World Heritage Sites and the fascinating ruins left by Greek, Roman, Arab and Norman rulers.
Whether visiting Sicily in search of culture, cuisine or just a suntan, you're bound to find something that takes your fancy. Here at BedandBreakfastworld.com, we have a fabulous range of Sicily villas to make your visit perfect, so have a look at our Sicily guide to get inspired.
Palermo Villas
In some areas reminiscent of Paris, in others closer to Marrakech, the architecture of Palermo is a mix of Byzantine, Arab, Norman, Baroque and Renaissance, and its citizens a friendly, warm-hearted and noisy representation of that multicultural past. The streets are filled with palaces, churches and castles to fill your days and lively restaurants and bars to spend your evenings in. There's also a popular beach resort nearby.
Located at the heart of Palermo is one of our favourite villas in Sicily - AllaKala, a stylish boutique B&B overlooking the harbour. The five modern guestrooms have plenty of character and all are equipped with air conditioning, wireless internet access, en-suite bathrooms and, best of all, sea views.
Cefalu Villas
With impressive mountain peaks on one side and a wide stretch of golden sand on the other, Cefalu provides a scenic location for a holiday to Sicily. The modern part of town has plenty of shops, restaurants and all the other amenities you need, while the historic centre makes an interesting place to spend a few hours, enjoying the beautiful artwork of the ancient cathedral or losing yourself in the narrow medieval streets.
Villa Cerniglia offers top quality accommodation, excellent service and an unbeatable location right on the waterfront. Most of the fifteen rooms of this Cefalu villa have a balcony with an unobstructed view of the sea, and guests have use of a kitchen as well as a sunny terrace.
Trapani Villas
Not one of Sicily's key tourist destinations, Trapani has a more laidback air. The town has grown up around a sickle-shaped harbour and has plenty to recommend it, with atmospheric pedestrian streets, a scattering of lovely little churches and a fifteenth-century cathedral, not to mention plenty of beaches. It is also a popular place to catch ferries out to other islands or to Tunisia.
I Colori del Vento is a charming little property in the heart of Trapani Old Town. Set in a traditional 18th-century Sicilian villa, the guestrooms still feature the chestnut beams and wooden shutters of the original building, as well as private balconies with views out to the beautiful Egadi islands.
Catania Villas
Sicily's second city has much to offer the visitor in terms of history, culture, and architecture. Damaged by the lava flows and earthquakes of Mount Etna on several occasions, now much of Catania is constructed from the volcanic rock, with gracious Baroque buildings and spacious boulevards and piazzas. Points of interest include Ursino Castle (once located on the seafront before Etna's eruptions extended the coastline), the 11th-century cathedral and two Roman amphitheatres.
Our favourite villa in Catania is the stunning 5 Balconi B&B, a charming 19th-century palazzo. Located right above Ursino Castle, the elegant guestrooms of this Catania B&B all have domed ceilings with chandeliers and marble balconies covered in flowers. A tasty breakfast of fresh fruit and local Sicilian pastries is included in the rates.
Agrigento Villas
Originally founded on a plateau overlooking the sea in 580 BC, Agrigento is now a lively city with plenty of shops, restaurants and cultural events, with a beach not too far away. Most of its visitors, however, come to see Agrigento's main attraction, the monumental Valle dei Templi. Located on Sicily's south coast, the Valley of the Temples is home to no less than seven Greek Temples and is now a World Heritage Site.
B&B Sabbia D'Oro is a lovely villa set in a tropical garden of palm trees. Just a short walk from the beach, each room is light, airy and tastefully decorated with beautiful Italian furniture. Breakfast can be enjoyed on the terrace overlooking the Mediterranean Sea.
Book an Agrigento villa or B&B
Castellammare del Golfo Villas
Named for the medieval fortress located in the harbour, Castellammare del Golfo is a small fishing town in the north-west of Sicily, boasting an attractive old town area and a pretty beach. Nearby is the Riserva Naturale dello Zingaro, a large nature reserve which is home to a wide range of flora and fauna, including eagles and owls.
Located in the nearby town of Balestrate is Casa Ruffino, an authentic Sicilian home decorated with beautiful painted frescoes and tiled floors. The villa has five individually themed guestrooms as well as a cosy lounge with satellite television and free internet access.
Book a Castellammare del Golfo B&B or villa
Castiglione di Sicilia Villas
Situated in the north-east of Sicily, Castiglione di Sicilia is made up of a handful of charming little villages and hamlets in the shadow of Mount Etna, with vineyards and agriturismos scattered throughout the region. There are also a number of churches and the ruins of the castle which gave the area its name.
Santa Caterina B&B is perfect for those looking for off the beaten track accommodation in Sicily. Nestled among the houses of the small, hillside village of Pietramarina, the B&B's medieval building has been carefully restored in the traditional Sicilian style, with all the rooms finished in lava stone, solid wood beams and terracotta.
Book a Castiglione di Sicilia villa or B&B
Piazza Armerina Villas
Set at the heart of Sicily, Piazza Armerina is a pretty and historic town of beautiful buildings and winding streets. The area is home to a majestic 18th-century cathedral and numerous palazzi, but its most famous attraction is the Villa Romana del Casale, noted for its intricate mosaics which are considered to be even more impressive than those at Pompeii.
Another of our favourite villas in Sicily is located nearby; Agriturismo Gigliotto is a beautiful farmhouse B&B set in a 13th-century monastery. Surrounded by rolling hills and fertile farmland, the house features a series of rustically decorated guestrooms as well as a sunny cobbled courtyard and a vineyard.
Book a Piazza Armerina villa or B&B
See our full range of Sicily villas
For more information about travel in Italy visit italia.it.
Do you have a B&B or guesthouse in Sicily? Visit our sign up page to list your property with BedandBreakfastworld.com.
By Eleanor Brown
Find BedandBreakfastworld.com on Facebook or follow us on Twitter, or catch up with our blog for top B&Bs and industry news.