View our selection of ski bed and breakfasts around the world. Over the years many mountain towns and snowy terrains have become a popular choice for winter holidays. European ski resorts have become busy social and sporting hillsides as everyone from beginner skiers to avid pros take to the slopes for their winter break. These once quiet, rural mountain towns now come alive with ski tourists from all over who come to sample the newest ski resort on offer. Each year it seems that those looking for some snow have to get in even earlier to book a good package at the top resort with the best snow, and all for ever increasing prices. So if you have all the gear ready to go, know the moves that will get you from the top of the hill to the bottom in one piece, and just want to get out on to those slopes for the best value for money, then take our approach to skiing this year... make it cheap and book it yourself! We've a list below of some of Europe's top ski spots where you can book great B&B accommodation at low price bed and breakfasts.
B&Bs in Chamonix, France
Chamonix is not only the most famous skiing destination in France, but possibly in Europe also. Located in the heart of the Alps, Chamonix B&Bs offer you an excellent choice of some of the world's top slopes and snow. The amazing Mont Blanc provides a breathtaking backdrop for Mont Blanc as both amateur and experienced skier's flock to this popular ski resort for the annual ski season. There is a vast selection of ski runs to choose from in Chamonix that are based in three areas, and also offers three smaller areas for those who maybe starting out or if you have children with you. There is a whole host of ski packages on offer for a trip to Chamonix, but if you're looking to save some cash and book your own accommodation this year, then take a look at the bed and breakfasts we have available in Chamonix for your ski holiday.
B&Bs in Interlaken, Switzerland
As it lies in the middle of the Swiss Alps, Interlaken B&Bs give you access to a skier's paradise. Its location makes it the ideal base for those of you looking to experience some winter sports or just some amazing sightseeing. Interlaken lies in the shadow of the peaks of the Eiger, Mönch, and Jungfrau mountains. The Junfrau region is particularly popular amongst skiers as it provides around 113 miles of downhill runs that are served by up to 45 cable cars and lifts, so you can make the most of your day on the Swiss slopes. And if you fancy getting adventurous and trying your legs at something other than skiing then the region offers a whole host of alternative winter sports such as heli-boarding and ice hiking to name but a few. So if you are visiting the Swiss town of Interlaken this winter then why not check out some of the great bed and breakfasts we have available in the region.
B&Bs in Tarnaby, Sweden
Located in Lapland, the home of Father Christmas, Tarnaby offers some of the best skiing in Sweden, as well as spectacular views and outdoor activities including dog sledding, helicopter rides, snowmobiles and ice fishing. Together with neighbouring Hemavan, there are over 44km available for skiing, with runs for all ages and abilities, including gentle hills for children, off piste and professional slopes. The two areas are a direct, 90-minute flight from Stockholm, and a shuttle bus runs between them. There are a good selection of cafes, restaurants, bars and clubs, with plenty of opportunities for a little après-ski...
B&Bs in Zakopane, Poland
It may not be quite as popular as other European ski resorts just yet, but Poland is catching up with its counterparts and is fast becoming a top choice for skiers. And if it's a budget ski holiday and some cheap accommodation you're after, then a Zakopane B&B is for you. Zakopane is commonly known as the 'Winter Capital of Poland'. It lies at the foot of the Tatras Mountains and an impressive wall of snowy hilltops act as the dividing point for Poland with Slovakia. This ski resort has some amazing ski runs to offer and has access to over 50 ski-lifts for its slopes. And should you become tired of all the snow-sports then there is plenty on offer in the town of Zakopane also. So if you are organising that trip to what's fast becoming Europe's top ski destination, then take a look at some low-cost Zakopane bed and breakfasts.
B&Bs in Andorra la Vella, Andorra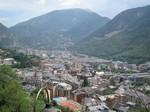 Andorra la Vella is the capital of Andorra and its scenic location high in the east Pyrenees between France and Spain make it an incredible choice for your ski B&B holiday this winter. Andorra is often associated with lavish style and high prices and while this may be the case in some places, it is possible to plan your budget ski trip to the region and avail of some cheap accommodation. Andorra la Vella is the highest capital in Europe and it's cold winter climate makes it a skier's paradise. The town itself also has a lot to offer, with its duty free shopping being the main attraction for many tourists. It is also full of great restaurants and shops making your trip to this ski destination an all-round enjoyable stay.
B&Bs in High Tatras, Slovakia
On the other side of the Tatras Mountains is the wonderful Slovakia where they take advantage of the generous snow fall and great slopes that come with the natural landscape. The area is renowned for its natural beauty and is a popular choice for visitors from all over Europe. There is a wide range of things to do in the High Tatras region for your ski holiday including many winter sports to take full advantage of the great skiing and snowfall. The area is also close to many great towns with plenty to see and do along with some excellent restaurants and shopping. There is also some great cheap B&B accommodation available in the High Tatras region for you to book so you can get more for your money on your ski holiday this year. Have a look at some skiing bed and breakfasts that we have on offer in the High Tatras.
B&Bs in Sarajevo, Bosnia and Herzegovina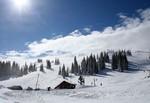 With its constant snowfall from December to March, Sarajevo's Mount Bjelasnica and Jahorina are the ideal pick for your skiing trip. This one time host of the Olympic Winter Games has overcome a lot over the last decade or so, but it is returning to being a popular choice amongst European skiers. This ski destination boasts excellent slopes with a full range of new and modern facilities and accommodation around the mountains and city. Those of you looking to experience all you can in winter sports can try your feet at snowboarding, snow shoeing, cross country and tour skiing. And if you want to book your own B&B accommodation for your ski trip to Sarajevo then take a look at some of the excellent bed and breakfasts in Sarajevo that we have on offer.
Do you have a B&B or guesthouse in one of the destinations featured? Visit our sign up page to list your property with BedandBreakfastworld.com.
By: Tracy Lynch
Find BedandBreakfastworld.com on Facebook or follow us on Twitter, or catch up with our blog for top B&Bs and industry news.