Fiesta, as everyone knows, is the Spanish word for 'party', and Spain certainly has a full calendar of festivals and events going on throughout the summer. The fiestas are as individual and as varied as the towns and cities which host them, but plenty of food, drink, music and sunshine is always guaranteed. Of course it's the locals who really know where the liveliest entertainment is, and one of the best ways to get to know the locals is to stay in a pension or hostal, typical Spanish B&Bs and guesthouses. So if you're planning to soak up some sunshine and sangria this summer, why not stay in a traditional hostal in Spain before heading down to one of these fiestas.
Seville
Cordoba
Madrid
Valencia
Pamplona
San Sebastian
Barcelona
Festivals in Seville
3rd-8th May 2011 - Feria de Abril, Seville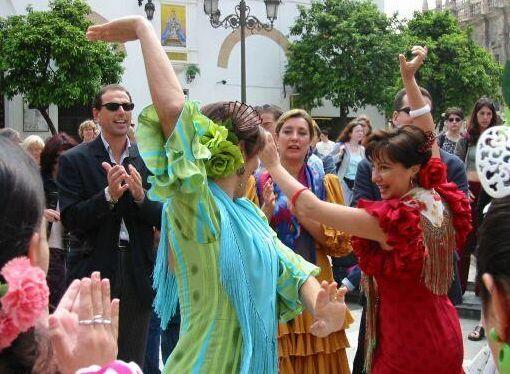 Two weeks after Semana Santa, Seville's most important traditional events, the whole city turns out for the week-long party known as the Feria de Abril. Sevillanos get dressed up to the nines in their traditional outfits, with women wearing brightly coloured flamenco dresses with fans and a matching flower in the hair, and men donning fitted trousers, a short jacket and a wide-brimmed hat. Members of Seville society ride around horseback or in carriages, and as well as the usual food and drink, the fairground boasts an amusement park (known as Calle de Infierno, or 'Street of Hell'!) and twelve rows of casetas, large tents set up by the city's associations and social clubs where members and their families eat, drink and dance until the early hours to the sound of the sevillanos (the traditional flamenco songs of Seville).
Book a Seville hostal or pension
Festivals in Cordoba
4th-15th May 2011 - Cordoba Patio Festival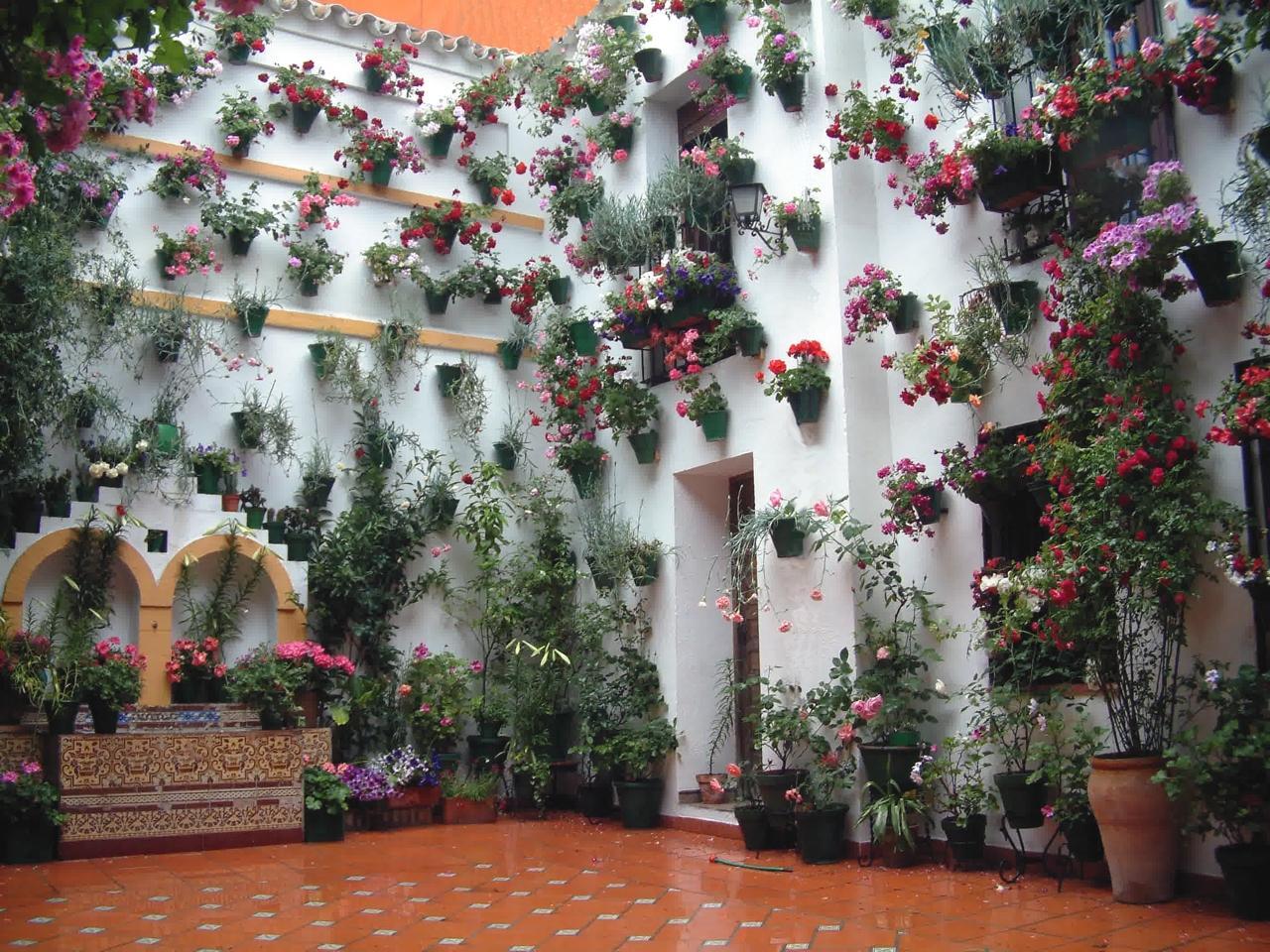 Walking through Cordoba's narrow, winding streets, picturesque mosques and whitewashed buildings, you could be forgiven for forgetting that you were in Europe at all. One of the most charming aspects of the Moorish architecture seen throughout the city are the houses, traditionally built around shady patios featuring graceful arches, intricate mosaics and water features, designed to help keep the house cool during those hot summer months. For most of the year, these patios are hidden away behind locked iron gates, but, for a few days every year, the gates are opened and visitors are free to wander in and enjoy the sights, sounds and scents of the beautiful courtyard gardens, which are bursting with flowers at this time of year.
This tradition first took place in 1918, with public and private buildings taking part. Several of the city's convents are highly recommended (Las Capuchinas, Santa María and Santa Isabel de los Angeles), as is the fourteenth-century Viana Palace, known as the Patio Museum with twelve individual patios, but watch out for the unusual opening hours; in Spain everything grinds to a halt for the famous siesta, and the patios will be closed between 2 and 7pm.
20th-28th May 2011 - Feria de Nuestra Señora de la Salud, Cordoba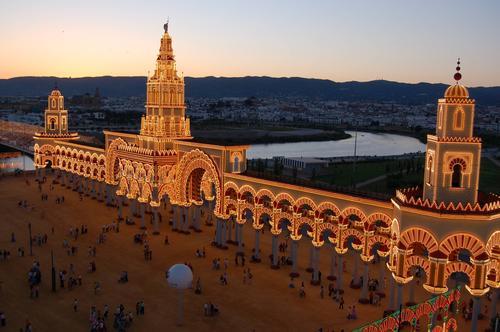 Just a few days after the end of the Patio Festival, you may notice a distinct lack of people in the streets of Cordoba. Take a short walk out of town and over the river and you'll see why. Festooned in so many lights the glow can be seen from a distance is a huge replica of the city's famous Mezquita, the site of Cordoba's Feria de Nuestra Señora de la Salud. Originally an agricultural fair, the feria now offers a huge selection of market stalls and food stands, as well as a fun fair. The city's associations and social clubs set up rows of casetas with their own bars, kitchens, bands and dance floors, which, unlike those in Seville, are open to the public. Traditional music can be heard as well as modern pop and rock, and you'll see young and old alike dancing until the sun rises.
This, along with the Patio Festival and the Crosses Festival (Cruces de Mayo), make Cordoba the place to be for the month of May.
Book a Cordoba hostal or pension
Festivals in Madrid
15th May 2011 - Fiesta de San Isidro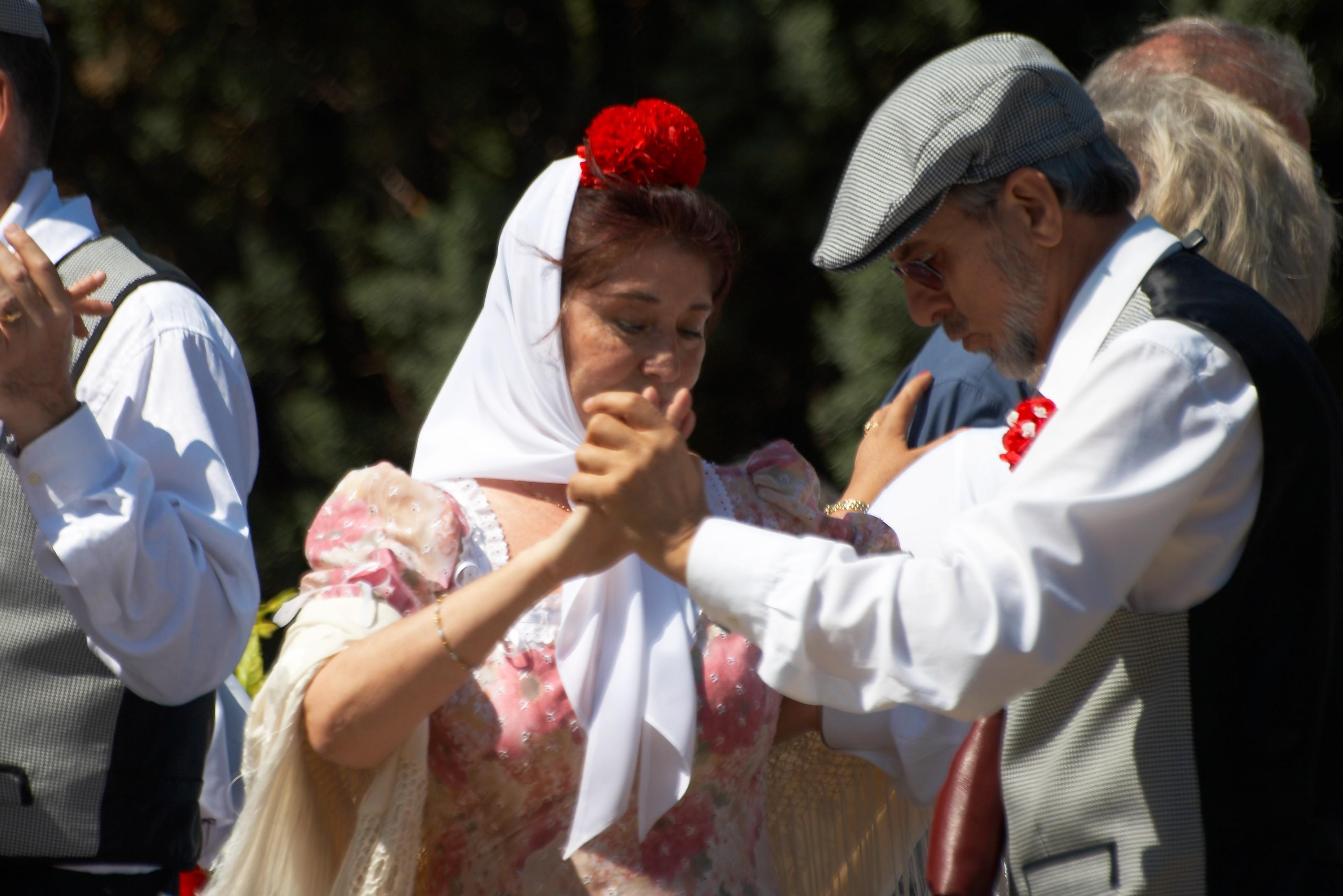 If you're in Madrid in May you shouldn't miss the Fiesta de San Isidro, the most important festival in Spain's capital, held on the day of their patron saint. You may feel as though you've stepped back in time as you see groups of men and women stepping our proudly in their chulapo outfits, the traditional dress of Madrid which for men consists of a flat caps and waistcoats and for women an elegant, full-length dress with a shawl and a headscarf. The day starts with a pilgrimage to the shrine of San Isidro which is followed by plenty of eating, drinking and dancing. The Fiesta de San Isidro also marks the beginning of bullfighting season.
Book a Madrid hostal or pension
Festivals in Valencia
1st-31st July 2011 - Feria de Julio, Valencia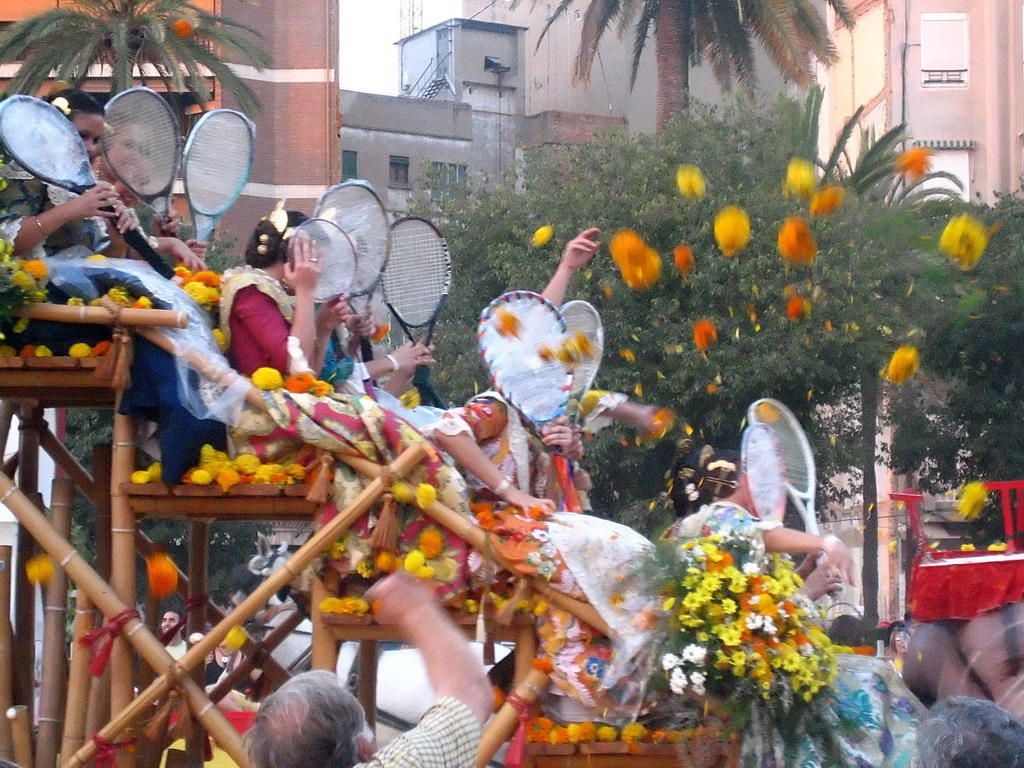 Initiated in 1871 as a way to keep people in the city during the hottest month of the year, the Feria de Julio is nowadays one of Valencia's most traditional festivals. An extensive programme of activities includes dance, arts, food, parades and plenty of music, with big-name acts appearing in open-air concerts in the Jardín de Real and orchestral performances taking place in the city parks and the bullring. One of the most impressive spectacles is the Batalla de las Flores (Battle of the Flowers); on the last Sunday of the feria, beautiful young women parade through the streets throwing flowers into the crowd, and have flowers thrown back at them.
31st August 2011 - La Tomatina in Buñol, Valencia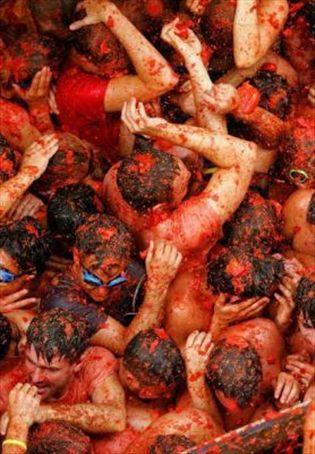 Once a year, for just one hour, the sleepy little town of Buñol on the outskirts of Valencia turns red. Thousands of visitors descend on the town from all over the world and, at the sound of a flare gun being fired begin to pelt each other with over one hundred tonnes of overripe tomatoes. The tomatoes are driven in through the narrow streets on large trucks, and, after a second flare signals the end of the throwing, the whole town is washed down by fire engines. The origins of La Tomatina are unknown, and it is certainly one of the strangest world events. If you're thinking of going, we advise you (from experience) to take a pair of goggles and don't wear anything you want to keep afterwards, unless you really like the smell of tomatoes.
Book a Valencia hostal or pension
Festivals in Pamplona
6th-14th July 2011 - Running of the Bulls, Pamplona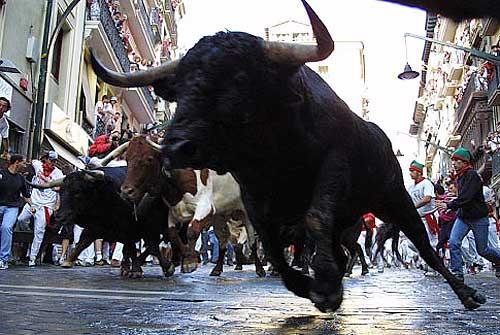 This famous custom takes place every year on the festival of San Fermín. Six bulls are driven through the streets while brave (or foolhardy) participants run ahead of them, trying to reach the bullring before the bulls. Originally just a means of transporting the animals to the bullring, when young boys decided to jump in front of the bulls, one of Spain's most famous (and most dangerous) traditions was born.
Book a Pamplona hostal or pension
Festivals in San Sebastian
21st-25th July 2011 - Heineken Jazzaldia, San Sebastian
For five days in July, the Basque capital San Sebastian plays host to the Heineken Jazzaldia jazz festival. Artists appear on a total of six stages, with this year's line up including legendary performers such as Patti Smith, George Benson and Elvis Costello, as well as more contemporary acts like Portico Quartet.
San Sebastian also hosts an international film festival, held this year from the 18th to the 26th September.
Book a San Sebastian hostal or pension
Festivals in Barcelona
22nd-25th September 2011 - Festes de la Mercé, Barcelona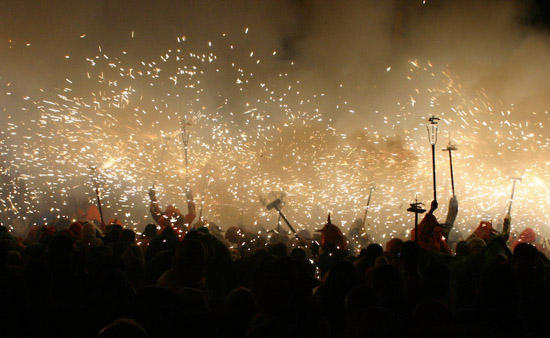 Summer may have come to an end but there's still time for a last fiesta before the nights start turning cold, and the Festes de la Mercé in Barcelona is quite a way to end the season. As Barcelona's main traditional festival, it is also the city's largest street party, lasting for five days. From a programme of hundreds of events, three in particular stand out. The most dramatic is undoubtedly the Correfoc; at dusk, processions of devils and dragons pass through the streets, setting off sparklers and fireworks and spraying sparks into the crowd. The most daring is the Castells, in which teams of men (castellers) compete to create the tallest human pyramid, towering high above the spectators. Then there is the parade of the Gigantes (the giants), where elaborate effigies of kings, queens and nobles are carried through the streets. All in all, a sight to behold.
Book a Barcelona hostal or pension
For more information about travel in Spain visit www.spain.info.
Do you own a B&B, pension or hostal in Spain? Visit our
sign-up page
and feature it for FREE on
BedandBreakfastworld.com
.
By Eleanor Brown
If you've been to any of these events, or if you have any suggestions of other summer festivals in Spain, we'd love to hear from you - visit us on Twitter or find us on Facebook to let us know.
We have hundreds of Spain bed and breakfasts, pensions and hostals - use our map to search by location or have a look at a selection of our favourites to give you some inspiration.
Want to keep up to date with all the latest news, offers and hot properties from BedandBreakfastworld.com? Follow our BedandBreakfastworld blog.