Christmas is coming, the geese are getting fat... So why not leave the preparations to someone else this December and use the excuse of Christmas shopping to get one last weekend away in before the end of the year?
The tradition of holding a Christmas market (or Christkindlmarkt) during advent originated in Germany and Austria in the middle ages, but has now spread all across the world. Here's BedandBreakfastworld.com's guide to the best Christmas Markets in Europe for 2009.
1. Berlin, Germany

As the home of the Christmas market, you would expect Germany's capital to produce something special, and Berlin does not fail to deliver. Markets pop up all over the city and the state of Berlin during December. The largest and most famous is held at Wilhelm Gedächtniskirche, with visitors in excess of four million, but other highlights include the antique toy stalls at Unter den Linden and the fairy forest at Alexanderplatz.
Location: Wilhelm Gedächtniskirche
Dates: 23rd November to 31st December
2. Brussels, Belgium
Brussels' main Christmas market is the Winter Wonderland, nestled among the grand buildings of the Place Sainte Catherine. As well as a vast array of stalls selling some of Belgium's finest culinary treats, attractions this year will include an outdoor ice skating rink and a giant illuminated big wheel.
Location: Place Sainte Catherine
Dates: 27th November to 3rd January
3. Vienna, Austria
Dating back to medieval times, Vienna's famous Wiener Christkindlmarkt attracts around three million visitors each year. Over 140 stalls are set up in front of City Hall, selling arts and crafts, children's toys, Christmas tree ornaments and, of course, plenty of mulled wine and seasonal treats.
Location: City Hall
Dates: 22nd November to 26th December
4. Tallinn, Estonia
Less than a decade old, Tallinn's Christmas market is a relative newcomer on the scene, but still attracts hundreds of thousands each year, drawn by handmade crafts, traditional Estonian food and the (almost certain) promise of snow. The market is held in the picturesque Old Town Hall Square, said to be the site of the first ever Christmas tree.
Location: Old Town Hall Square
Dates: 29th November to 27th January
5. Prague, Czech Republic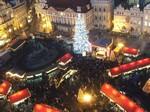 The most popular Christmas markets (vanocni trhy) in Prague take place in the stunning Old Town Square and, fittingly, Wenceslas Square. Goods being sold at the colourfully decorated wooden huts range from Bohemian crystal to handmade wooden puppets. Make sure you try the sausage, a local Czech speciality.
Location: Wenceslas Square, Old Town Square
Dates: 28th November to 1st January
6. Gothenburg, Sweden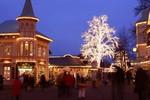 Fairy lights adorn every available space of Gothenburg's Liseberg amusement park when Christmas comes to town, undoubtedly one of the largest Christmas markets in Scandinavia. Adults browse the stalls, sampling Nordic delights, while children tire themselves out on the fairground rides and the ice rink.
Location: Liseberg
Dates: 13th November to 23rd December
7. Budapest, Hungary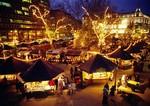 A magical atmosphere descends on Budapest at Christmas, and its festive market is one of the most popular in Europe. Drawing crowds which number in the hundreds of thousands, the city's central market is filled with decorated wooden stalls selling strudel, sausages and traditional kürtös kalács.
Location: Vörösmarty Square
Dates: 24th November to 29th December
8. London, England

In response to the huge popularity of recent years, Hyde Park's Winter Wonderland will this year extend to over 20 acres of Christmas fun, with a brand new Santa Land. Other attractions include a fun fair, a big wheel, an ice rink and, of course, the traditional German market.
Location: Hyde Park
Dates: 21st November to 3rd January
9. Paris, France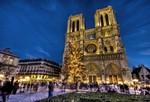 The world's most romantic city excels itself at Christmas, with every tree festooned with twinkling lights. Visitors come from all over France and further to meet Père Noël and enjoy a warming glass of vin chaud. Kids will love the colourful carousels while adults may prefer a more sedate ride in a horse-drawn carriage. The main markets are held at Place Saint-Sulpice and Boulevard Saint Germain.
Location: Place Saint-Sulpice, Boulevard Saint Germain
Dates: 5th December to 31st December
10. Madrid, Spain
Madrid's Mercado Navideño is held in the elegant Plaza Mayor. Among the traditional sweets, decorations and Bethlehem figurines on offer, visitors may be surprised to see a large number of novelty wigs, rubber masks and other costume items for sale. These are linked to el día de los inocentes, a Spanish April Fool's Day held on 28th December, but eager shoppers tend to try on their new outfits straight away, giving a carnival feel to the proceedings.
Location: Plaza Mayor
Dates: 28th November to 31st December
Do you have a B&B or guesthouse in one of the destinations featured? Visit our sign up page to list your property with BedandBreakfastworld.com.
By: Eleanor Brown
Find BedandBreakfastworld.com on Facebook or follow us on Twitter, or catch up with our blog for top B&Bs and industry news.