Central Amsterdam is a lively throng of photo-snapping tourists, bicycle-riding locals and rattling trams. The action centres around the Dam, a graceful square that has existed in some form since the thirteenth century and is now bordered by the Royal Palace on the western side and overlooked by the National Monument, a white stone pillar erected in the centre of the square in memory of the victims of the Second World War.
Away from the centre, Amsterdam is considerably calmer. There are numerous different areas, each with its own distinct personality, connected by a network of picturesque streets and sliding canals, lined with elegant old villas. Why not try staying in an Amsterdam Bed and Breakfast to get a real taste of local life?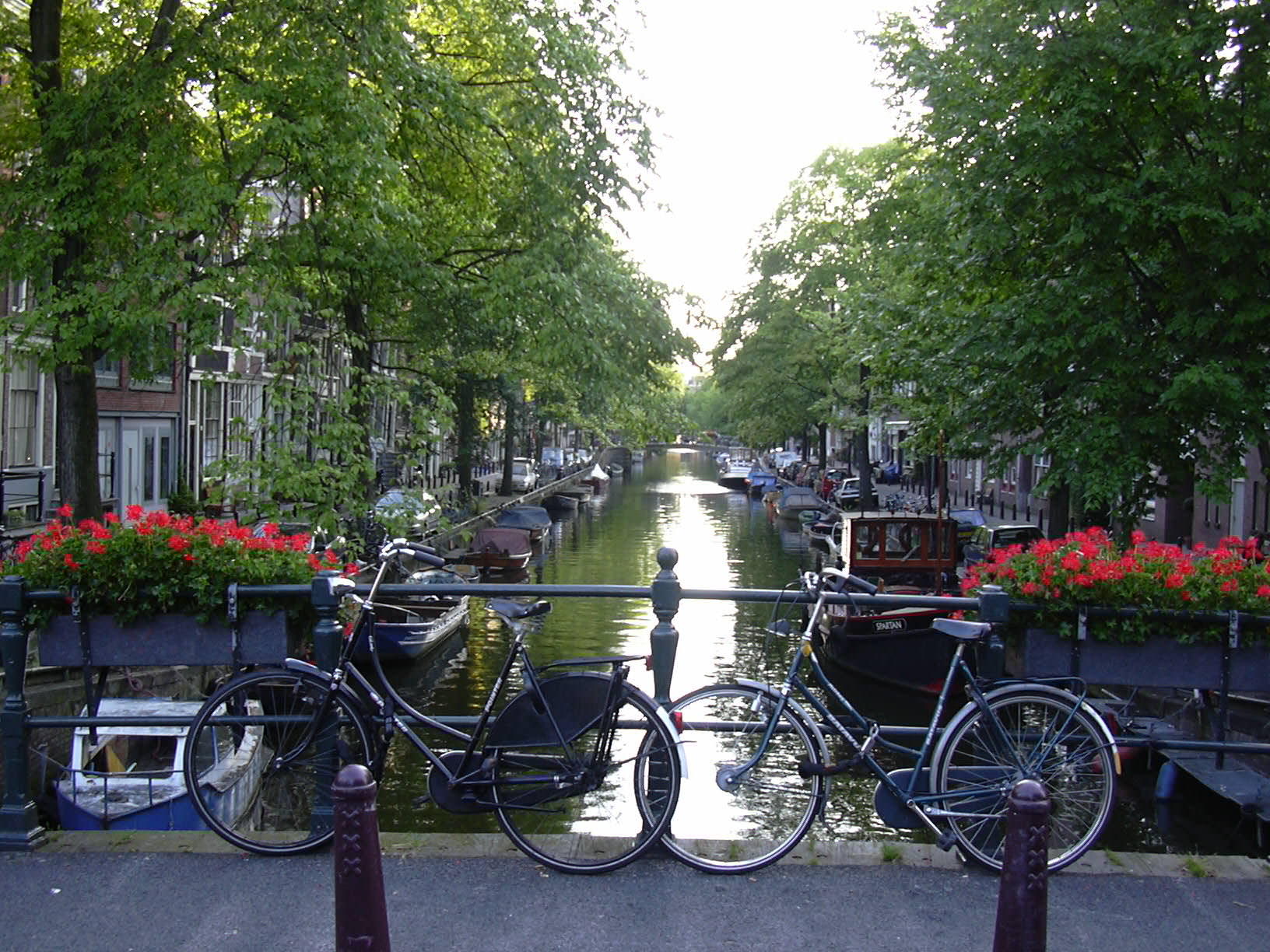 While Amsterdam is famed for its open-minded approach to life, even its seedier side is not too seedy; rather it's bright, colourful and fun, but also easy to avoid if more sophisticated sights such as the Vondelpark or the Museumplein are on your itinerary.
Top Amsterdam attractions:
Dam Square: The heart of the city, with a touching monument to the victims of World War II.
Anne Frank Haus: The house where Anne Frank hid from the Nazis for two years and wrote her famous diary.
The Royal Palace: A seventeenth-century palace, one of four royal palaces in the Netherlands.
Rijksmuseum: Amsterdam's national museum, dedicated to arts, crafts and history with a significant collection of paintings from the Dutch Golden Age.
Van Gogh Museum: The largest collection of paintings by Vincent Van Gogh in the world.
Red Light District: Worth a visit, if only for curiosity's sake.
Flower Market (Bloemenmarkt): The world's only floating flower market.
Vondelpark: A public park created in 1845 and featuring a film museum, an open air theatre, a playground and several eateries.
Amsterdam Bed and Breakfasts:
Boogaard's Bed and Breakfast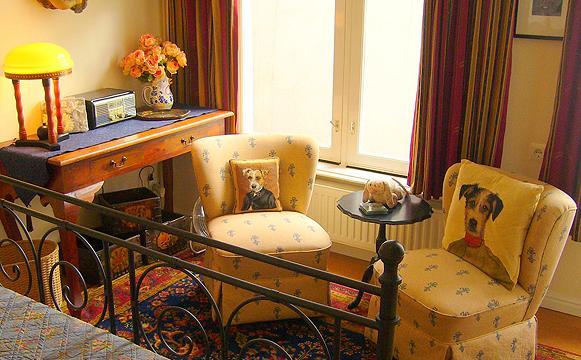 Boogard's Bed and Breakfast is located between four of Amsterdam's most picturesque canals on the historic Langestraat, an elegant street of former merchants' houses.
The B&B has two rooms, the Pug Room and the Jack Russell Room, charmingly themed for their namesakes and both equipped with en-suite bathrooms, queen-size beds, leather chairs, televisions, DVD players, wireless internet access and air conditioning. Amenities include a cosy living room with a wet bar and complimentary home baked goodies and a dining room, where a full breakfast is served.
Langestraat enjoys a convenient location close to Haarlemstraat, the main shopping street, and Jordaan, a lively quarter full of stylish cafés, galleries, restaurants and shops.
Book Amsterdam Bed and Breakfast Boogards Bed and Breakfast
Amstel Riverview Bed and Coffee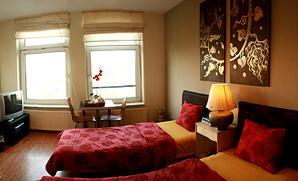 Feel at home at the Amstel Riverview Bed and Coffee, a cosy B&B offering clean, comfy and affordable accommodation in Amsterdam.
Set in an exclusive area of the city, the homely apartment offers well-appointed guestrooms with televisions, free wireless internet access, complimentary tea and coffee and, best of all, lovely views our over the Amstel River.
Guests have access to a full-equipped kitchen, although there are plenty of great restaurants close by. The B&B is also within walking distance of Rembrandtplein and the Heineken Museum.
Book Amsterdam B&B Amstel Riverview Bed and Coffee
Helmers Inn
Tucked away in a peaceful area just outside Amsterdam city centre is Helmers Inn, a traditional nineteenth-century building with just two spacious guestrooms, guaranteeing privacy and relaxation.
Each room is light and airy and equipped with a refrigerator, free wireless internet access and tea/coffee-making facilities. One of the rooms also has folding doors which lead to a private terrace.
Helmers Inn is located in Amsterdam's Old West district, just moments from the beautiful Vondelpark and surrounded by fashionable shops, restaurants and cafés.
Book Amsterdam Bed and Breakfast Helmers Inn
Rembrandt Park House
Run by friendly local Dirk, Rembrandt Park House boasts a range of stylishly decorated guestrooms and a charming, homely atmosphere.
The Amsterdam B&B is situated right on the edge of the lovely Rembrandt Park in a quiet residential area on the outskirts of the city centre. All of the guestrooms overlook the park and are equipped with televisions, DVD players and free wireless internet access. Most also have private bathrooms.
Guests can also make use of a cosy living room and a continental breakfast is included in the rates.
Book Amsterdam Bed and Breakfast Rembrandt Park House
Amsterdam Bed and Breakfast DCK
Try something new while you're visiting Amsterdam and stay in a boatel. Amsterdam Bed and Breakfast DCK is a cosy houseboat offering you the chance to experience life on the canals in the heart of the city.
The homely houseboat is set among a neighbourly community of other boats. It is fully equipped with a double bedroom, a kitchen, a bathroom, a living room with television and a terrace. A double sofa bed in the living room means that the boat can accommodate up to four people.
Private and quiet, guests can feel at home on the water while still being close to all the attractions of Amsterdam city centre.
Book Amsterdam Bed and Breakfast DCK
BedandBreakfastworld.com has over 40 B&Bs in Amsterdam - search for availability and book online.
To find out more about things to see and do in Amsterdam visit IAmsterdam.com, or for information on Holland in general, visit www.holland.com.
Do you own an Amsterdam B&B? List your property for free on BedandBreakfastworld.com.
By Eleanor Brown
Let us know your recommendations for things to see and do in Amsterdam - visit us on Twitter or find us on Facebook.
Want to keep up to date with all the latest news, offers and hot properties from BedandBreakfastworld.com? Follow our BedandBreakfastworld blog.