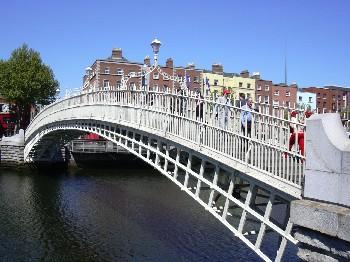 The huge economic growth known as the Celtic Tiger which Ireland enjoyed for over a decade attracted people from all corners of the globe to come and seek their fortune in the Emerald Isle. This multicultural influx turned Dublin into a modern, vibrant and cosmopolitan capital, as well as one of the most expensive cities in the world.
The fine international cuisine, thriving arts scene and scores of trendy bars do not detract from the essentially Irish feel of the place, although visitors hoping for old stone cottages and fields of sheep will be disappointed. Dublin is a city which is constantly looking forward, building, developing and creating, while still remaining fiercely proud of its past.
And itÂ's quite a past. DublinÂ's history is multi-layered, often turbulent and always intriguing. But it is these trials and tribulations which are said to have given the Irish people their sharp sense of humour and welcoming attitude, earning them, in some peopleÂ's books, the title of the worldÂ's friendliest nation.
What really keeps Dublin ticking is its social life, and itÂ's the locals themselves that really give the city that certain something; usually grumbling about the weather on the outside, Dubliners remain ever optimistic on the inside and are always willing to share the craic with visitors to their city.
That central Dublin is relatively small really is part of its charm; once youÂ've navigated your way from OÂ'Connell Street to Grafton Street, with a stop off in one of Temple BarÂ's numerous drinking establishments on the way, youÂ'll find youÂ're already thinking of yourself as an honorary Dubliner. But for a city with only just over a million inhabitants, it certainly packs in the entertainment. Top Dublin attractions include the National Museum of Ireland, Kilmainham Gaol, Dublin Zoo and Phoenix Park, the Book of Kells in the Trinity College library, St. StephenÂ's Green and, of course, the Guinness Storehouse.
Where to stay:
BedandBreakfastworld.com has over 60 great Dublin B&Bs; here are our top fiveÂ…
Albany House
Set on a row of graceful Georgian houses, just moments from St. StephenÂ's Green and Grafton Street, Dublin Bed and Breakfast Albany House was once part of the prestigious estate of the Earl of Clonmel. With an atmosphere of intimacy and privacy in the heart of the city, this eighteenth-century building has all the comforts of a top hotel, and each of the well-appointed guestrooms features an en-suite bathroom, cable television, telephones and tea/coffee-making facilities. Guests can relax in the cosy fireplace lounge or enjoy delicious meals in the elegant dining room.
Glenshandan Lodge
Glenshandan Lodge is an award-winning guesthouse situated in the lively town of Swords, just a few minutes from Dublin International Airport. Spacious family rooms can sleep up to seven people, and feature luxurious bathrooms with Jacuzzi baths and separate showers. Staff are friendly and helpful and a delicious full Irish breakfast sets you up for the day.
A regular bus to the city centre leaves from right outside the front door, although plenty of activities can be enjoyed locally, including golf, horse riding, walking and water sports. WhatÂ's more, the beautiful beaches and picturesque towns of North County Dublin are all within easy reach.
Book Dublin B&B Glenshandan Lodge
The Mercantile
Just minutes from Temple Bar, Trinity College and Grafton Street, The Mercantile is ideally located for discovering everything Dublin has to offer.
A range of 28 bright and spacious rooms have all been decorated to reflect our warm and friendly atmosphere, with comfort and relaxation in mind. All rooms feature free WiFi, television, telephones and hairdryers, and many offer great views over the River Liffey.
Downstairs, the Mercantile Bar & Grill serves up top-quality food at very reasonable prices, making a great place for city centre dining. Burgers, fresh soups and the stew of the day are all made using only the finest Irish produce.
Book Dublin bed and breakfast The Mercantile
Merrion Hall
Merrion Hall is a beautiful boutique guesthouse set in a privileged location in Ballsbridge, one of Dublin city centre's most elegant areas, close to the RDS and the Aviva Stadium.
Rooms are luxurious and well-appointed with free WiFi, satellite TV, telephones and hospitality trays. Full en-suite bathrooms are stocked with complimentary toiletries and the comfy beds are dressed in the finest linen.
An award-winning breakfast is served up in the period-style dining room, while afternoon tea, light meals and drinks can all be enjoyed in the drawing room and library, the perfect locations to relax and unwind.
Book Dublin bed and breakfast Merrion Hall
Almanii
Hosts Mary and Padraig OÂ'Leary welcome guests to Almanii, a homely B&B set in a convenient location close to Dublin International Airport. Tastefully decorated twins, doubles and triples are available, each featuring an en-suite bathroom and television.
The leafy residential area around Almanii provides the perfect setting for a quiet and relaxing stay, although there are plenty of shops, restaurants and bars within easy reach of the B&B, as well as a regular direct bus service to Dublin city centre.
To find out more about things to see and do in Dublin go to VisitDublin.com, or for information on Ireland in general, visit DiscoverIreland.com.
Find a Bed and Breakfast in Dublin
Do you have a B&B or guesthouse in Dublin? Visit our sign up page to list your property with BedandBreakfastworld.com.
By Eleanor Brown
Find BedandBreakfastworld.com on Facebook or follow us on Twitter, or catch up with our blog for top B&Bs and industry news.