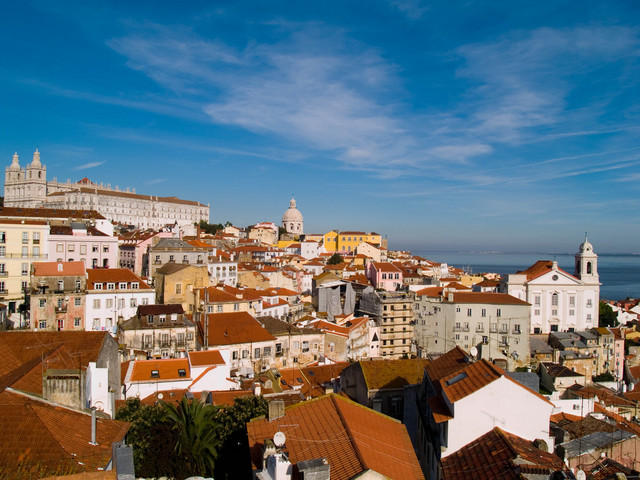 Combining centuries of history with a young, lively atmosphere, Lisbon is a vibrant and modern capital with a small-town feel. Bright yellow trams run up and down cobbled streets which are sprinkled liberally with an eclectic mix of gothic cathedrals, monasteries, museums, shops, bars and restaurants.
A position on the banks of the River Tagus, with its mouth opening onto the Atlantic Ocean, made Lisbon a key trading post for millennia. Nowadays that same location makes it an ideal destination for holidaymakers, with excellent beaches, picturesque fishing villages and stunning hillside scenery found just outside the city.
For a small city, Lisbon has an enjoyably diverse mix of neighbourhoods; every visitor to Portugal's capital will find something to please them, be it dancing the night away in the lively bars of Bairro Alto, splashing the cash in sophisticated Chiado or simply wandering the charming backstreets of Alfama, stumbling across a leafy square and enjoying a glass of wine while soaking up the atmosphere of traditional Portugal.
Looking for Lisbon accommodation? Here are BedandBreakfastworld.com's top 5 recommendations for Lisbon guesthouses…
Bed and Breakfast Suite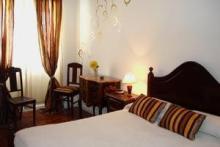 In a sunny fourth-floor apartment in Lisbon's Benfica district is Bed and Breakfast Suite. With just one guestroom available, privacy is guaranteed; the stylishly decorated double is fully equipped with wireless internet access and television, and guests are greeted with a welcome bottle of Portuguese white wine. A continental breakfast is included in the rates.
This Lisbon B&B enjoys an ideal location, just five minutes from the city centre with excellent public transport connections and very close to the Zoological Gardens, Portugal's largest shopping centre and, of course, the famous stadium, home to the Benfica football club.
Book Lisbon guesthouse Bed and Breakfast Suite
Lisbon Story Guesthouse
Lisbon Story Guesthouse offers chic bed and breakfast accommodation in an excellent location in Rossio in central Lisbon, right next to the National Theatre and within walking distance of all the city's main attractions.
The Lisbon guesthouse has eight modern and stylish guestrooms, each decorated to an individual theme. The 'Escritor' room pays homage to some of Portugal's best loved writers while the 'Fado' room (pictured) was inspired by a style of traditional Portuguese music.
The property also has a guest kitchen and a relaxing lounge area where you can chill out with a cup of tea or coffee while checking your emails using their complimentary wireless internet access.
Pouso Dos Anjos
Once the residence of a Portuguese countess, Pouso Dos Anjos is now a friendly, laidback guesthouse in downtown Lisbon, just a few minutes' walk from Rossio, Restauradores and Praça de Figueira, Lisbon's three main squares.
Pouso Dos Anjos has thirty-two cosy guestrooms with a quiet, private garden and a shady courtyard. The owners pride themselves on welcoming guests from all walks of life, an attitude reflected in the helpful, multicultural staff as well as the eclectic décor, with antique tiles and handcrafted wall hangings complimenting the building's original features.
The Lisbon guesthouse also offers a budget accommodation option, with two small, air-conditioned dormitories sleeping up to twelve people with private bathrooms, lockers and a dining area.
Book Lisbon guesthouse Pouso Dos Anjos
Lisbon Dreams Guesthouse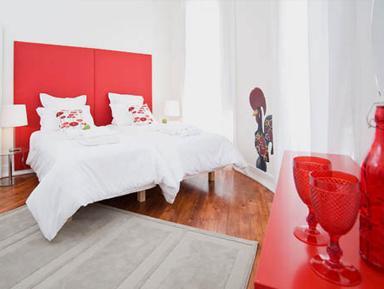 Lisbon Dreams Guesthouse provides luxury bed and breakfast accommodation in Lisbon at affordable prices. Ideal for business or leisure single, double, twin and triple guestrooms are light and airy with a simple but stylish design scheme. Fluffy towels, bathrobes and slippers are provided and a full breakfast is included in the rates.
The recently renovated building also boasts a kitchen, a TV lounge, a dining area and two sunny patios, perfect for enjoying a glass of Portuguese wine in the afternoon sunshine and sampling some local delicacies. The Lisbon University Botanical Gardens are just down the road, as well as the beautiful Parque Eduardo VII.
Quinta Nova da Conceicao
Offering visitors to Lisbon the chance to live like Portuguese nobility is Quinta Nova da Conceição. The historic eighteenth-century mansion, located in central Lisbon, has just two finely appointed guestrooms, both with garden views and both elegantly furnished in keeping with the period of the building.
Facilities include a charming breakfast room, decorated with traditional blue azulejo tiles and with garden views, a graceful dining room filled with antiques and a large salon with an open fireplace, a harp and a piano. The property also boasts a large garden, rare in the city centre, with a swimming pool and a tennis court.
Book Lisbon guesthouse Quinta Nova da Conceicao
See more Lisbon bed and breakfasts
For more information about travel in Portugal see VisitPortugal.com.
Do you own a B&B, pension or hostal in Lisbon? Visit our
sign-up page
and feature it for FREE on
BedandBreakfastworld.com
.
By Eleanor Brown
Let us know your recommendations for things to see and do in Lisbon - visit us on Twitter or find us on Facebook.
Find BedandBreakfastworld.com on Facebook or follow us on Twitter, or catch up with our blog for top B&Bs and industry news.