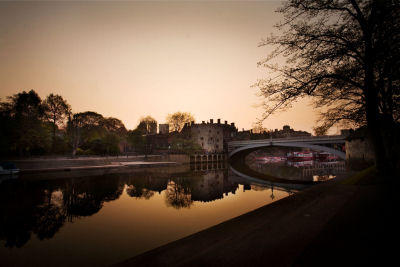 The impressive 13th-century city walls which encircle the centre of York are holding in around 2000 years of history, beginning even before the Romans arrived in AD 71. Celts, Anglo-Saxons and Vikings have all left their mark over the years, creating one of Britain's most fascinating and culturally rich cities. Every twist and turn through the well-preserved labyrinth of narrow medieval streets is a step back in time, making York an absolute must for anyone interested in English heritage.
Things to do in York
• York Minster One of Europe's largest cathedrals and the seat of the Archbishop of York, on the site of York Minster are the remains of seven buildings, the earliest of which dates back to the 7th century. It is best known for its extensive collection of medieval stained glass, particularly the impressive Great East Window.
• The Shambles From the Saxon word shamel, meaning 'slaughterhouse', The Shambles is more attractive than its name would suggest. Recently named Britain's Most Picturesque Street after a vote on Google Street View, The Shambles is a quaint, cobbled street offering a glimpse into York's medieval past.
• York City Walls There are plenty of access points to get onto York's impressive city walls, from where you can enjoy particularly good views of York Minster. Built in the 13th-century, there are several well-preserved gates (or 'bars'); Monk Bar is home to the Richard III Museum, which tells the famous story of the 'Princes in the Tower'.
• National Railway Museum One of the world's biggest railway museums, the National Railway Museum focuses on a time when England was a pioneer of railway technology. The collection of over 100 locomotives and 200 other examples of rolling stock includes the record-breaking Mallard and Queen Victoria's personal carriage.
• JORVIK Viking Centre The ever-popular JORVIK Viking Centre is one of York's favourite attractions and is a great place for children (and adults) to experience the sights, sounds and smells of 9th-century Britain as they travel through a reconstructed Viking village.
York Events
• JORVIK Viking Festival (February)
• York Literature Festival (March)
• York Carnival (May)
• York Races (May- October)
• York Festival of Food & Drink (September)
Blossoms
Set in an elegant Georgian townhouse dating back to 1837, Blossoms offers comfortable accommodation in a range of stylishly refurbished en-suite guestrooms. Just a short walk from York Minster, the guesthouse's owners pride themselves on offering friendly service combined with excellent value for money, and a full English breakfast is cooked to order every morning using fresh, local ingredients. Adults will enjoy a drink or two in the attractive Cellar Bar, while children will entertain themselves for hours playing with the Nintendo Wii and a range of board games.
Book York bed and breakfast Blossoms
Our second York B&B, Crossways Guest House, is located in an elegant Victorian townhouse just ten minutes' walk from York city centre. All rooms are comfortable and modern, and maintained to a very high standard. Facilities include TV and WiFi, and a full English or continental breakfast is included in the rates, served up with freshly baked bread and homemade jam.
Book Crossways Guest House in York
See more bed and breakfasts in York
Getting Around
York's closest airport is Leeds-Bradford International Airport, just under an hour away, and there are good bus and train connections to London, Birmingham, Edinburgh and other major cities, as well as local services.
You can hire bicycles, although the city itself is fairly compact and easily walkable. There are also a couple of good bus tours which take you round the main sights of the city centre and out into the surrounding countryside, as well as boat trips down the River Ouse.
Around York
• Castle Howard Yorkshire's finest historic house and estate was made famous by its appearances on the big and small screens in Brideshead Revisited, and it's easy to see why it was chosen as the setting. Castle Howard is a masterpiece of Baroque architecture set within 1000 acres of manicured gardens, woodland and lakeside scenery, dotted with follies and strutting peacocks and surrounded by rolling hillside. Inside the house, every room is a treasure trove of antique paintings, furniture and tapestries collected by the Howard family on their Grand Tours.
• North York Moors National Park About 30 miles from York, the legendary Yorkshire Moors. Wild and windswept hills drop into deep green valleys, hiding farms, villages, castles and abbeys. Popular with walkers and cyclists, the national park extends over 553 square miles, out to England's east coast and the seaside town of Whitby.
• Yorkshire Dales National Park Less than 2 hours from York, the Yorkshire Dales National Park comprises nearly 700 square miles of rolling hills, open moorland, and winding drystone walls, a landscape which has remained unchanged for centuries and offers a taste of quintessential England.

Also close to York are the vibrant cities of Leeds, Sheffield and Manchester, and the traditional seaside towns of Whitby, Scarborough and Bridlington.
To find out more about things to see and do in York go to VisitYork.org, or for information on England in general, go to EnjoyEngland.com.
For travel information about the rest of Britain, go to VisitBritain.com.
Do you own a bed and breakfast in York? Sign up for free to BedandBreakfastworld.com to receive online bookings in real time.
By Eleanor Brown
Find BedandBreakfastworld.com on Facebook or follow us on Twitter, or catch up with our blog for top B&Bs and industry news.